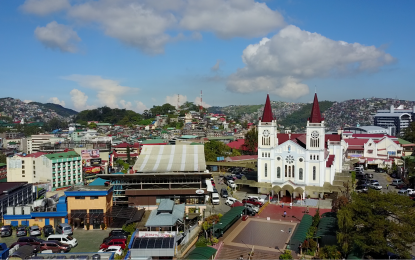 MANILA – The Philippine Institute of Volcanology and Seismology (Phivolcs) officially launched on Thursday the Baguio City Ground Shaking Hazard Maps (BCGSHM).
"With the city's rapid urbanization, there has been an increasing rate in the development of buildings and structures. Due to the unique features of the city, especially the irregularities in the topography, all the more that it needs mapping of seismic sites," said Benguet Provincial Science and Technology Director Sheila Marie Claver during the launch held in a hybrid setting.
These hazard maps will help the local governments improve their development plans towards a resilient place, she added.
The BCGSHM is one of the outputs of the "Passive Seismic Stratigraphy of Irregular Topography (PSSIT) Applicable to Mountainous Areas of Baguio City" project funded by the Department of Science and Technology.
Claver said originally, this project was only for Baguio City, but has been extended and now includes La Trinidad Benguet. Mapping is currently ongoing, she said.
The BCGSHM can be accessed through the Phivolcs' website. It contains maps that provide information on the levels of ground motion and site response during strong earthquakes based on the characteristics of the underlying soil and rock layers and the effects of specific topography, in this case, mountainous terrain such as Baguio City.
It can be recalled that last July 27, a magnitude 7 earthquake jolted northwestern Luzon and resulted in several structural damages.
The hazard maps can be a reference for structural engineers in designing and constructing earthquake-resilient buildings and infrastructures in Baguio City.
Meanwhile, at the launch in Baguio City, a technical workshop was held to cater to participants from the local government, private firms and land developers, universities within Baguio City, and other stakeholders.
Facilitators taught them how to interpret the data presented in the maps, identify ground conditions on-site using the publication, and estimate the natural vibration of buildings to determine the existing structures that might be vulnerable to intense ground shaking. (PNA)