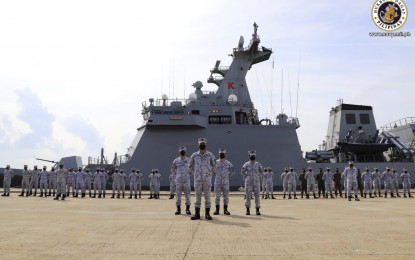 MANILA – The Philippine Navy (PN) is poised to be at par with its regional counterparts through the acquisition of more modern warships in the coming years, its acting chief said on Thursday.
"In five years time, when the arrival of the seven more Acero-class gunboats, the new construction landing docks, the new generation corvettes, offshore patrol vessels, the average age of our seagoing platforms will be 10 years old. Comparable and even better than our maritime neighbors," PN acting flag-officer-in-command Rear Adm. Caesar Bernard Valencia said in his assumption speech at the Navy headquarters.
Valencia referred to the warships that were procured as part of the PN's modernization program.
To date, the Navy is now equipped with two brand-new missile-armed frigates, two landing docks, two anti-submarine helicopters, and 12 multi-purpose attack craft, six of which are now equipped with the Israeli-made Spike-ER surface-to-surface missiles.
This is a far cry from the ships Valencia had seen and served during the beginning of his naval service, noting that some of these date back from World War II and are antiquated as of that time.
"But despite the great strides we have achieved then, I believed we could still do better," Valencia said.
Another example of the PN getting even more capable and better is when the BRP Antonio Luna (FF-151), in the recently concluded Rim of the Pacific (RIMPAC) exercise in Hawaii, won third place in the Naval Surface Fire Support "Rodeo" besting 16 other warship participants
Valencia said such a feat was once only a dream 10 years ago.
"I remember the first naval exercise that I participated in and as part of this exercise, we fired our 3.50 inch (naval) guns. Not only did our gun crew miss by a mile but we were told to cease firing as the deck was so brittle that there was a danger of it collapsing. And also, so much rust was raining down below deck due to the recoil of our naval guns," he added.
He said the Philippine Marine Corps (PMC) will take full delivery of its BrahMos anti-ship missile systems within the next three years.
This is in accordance with the PN's archipelagic coastal defense strategy.
Valencia said this will make the PMC one of the better equipped amphibious forces in the region.
Valencia, a member of the Philippine Military Academy (PMA) Class of 1990, succeeded Vice Adm. Adeluis Bordado, a member of PMA Class of 1988, who retired from the service.
"As we continue to sail on towards our vision year in 2028 to be modern and multi-capable, the Navy's promise to our maritime nation is that your Navy can still be better, and that your Navy will be better. And although much has been achieved over the years, the Navy's proudest moments are still to come," Valencia added.
He also pledged to continue the thrusts and guidance of his predecessor while looking forward to the bright future of the PN.
Some of the key point positions held by Valencia included being Chief of Naval Staff, the Commander of Naval Forces Northern Luzon, the Navy's operational command that oversees the maritime area over Northern Luzon, and the commander of the Offshore Combat Force wherein he led big-ticket projects initiated by the Navy such as the acquisition of offshore patrol vessels, frigates and corvettes.
Meanwhile, Department of National Defense officer-in-charge Undersecretary Jose Faustino Jr. assured Valencia of his "full trust and confidence" and gave a marching order to "lead the Navy as a reliable partner in nation-building, sustain its transformation into a modern and multi-capable force, a dependable protector not only of our seas but also of our nation's future."
He also hailed Bordado, the PN's 39th flag-officer-in-command, for his "sterling accomplishments and fruitful military career" and for competently leading the Navy.
"I am deeply honored to join everyone here today in sending you off to your next adventure. Proudly, I give you my highest commendations on your exceptional leadership and service to the nation," Faustino said.
A native of Calabanga, Camarines Sur, Bordado graduated as the Top 4 of the PMA Class of 1988. He is an accomplished surface warfare officer, and a highly-decorated naval officer with expertise in the fields of naval operations, intelligence, and education and training.
Bordado steered the organization for 15 months with his leadership thrust anchored on the intertwined concepts of "Continuity and Change".
Under his watch, the PN was able to sustain its course amid challenges posed by the pandemic, cope with the "new normal", and reach new milestones that advanced the Navy's resolve to become a modern and multi-capable force.
Notable among these accomplishments were the PN's successful inaugural hosting of the Western Pacific Naval Symposium, third participation in the world's largest naval exercise, RIMPAC 2022, activation of the Naval Operating Base-Subic, acquisition of four Cessna Skyhawk II trainer aircraft, delivery of the first Mistral 3 surface-to-air missiles for the Jose Rizal-class frigates, and the recent acquisition of the first two units of Shaldag Mark V fast attack interdiction craft-missiles. (PNA)