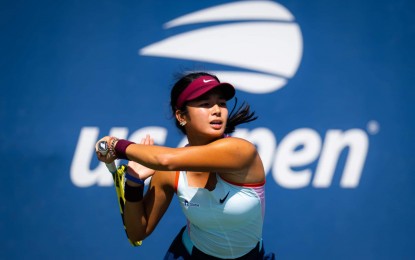 MANILA – Alexandra Eala of the Philippines scored a 6-4, 6-0 victory over Mirra Andreeva on Friday to reach the girls' singles semifinal of the US Open Juniors Championships at the USTA Billie Jean King National Tennis Center in New York.
Eala, seeded 10th, will be up against Victoria Mboko, the ninth-seeded Canadian who eliminated fourth pick Swiss Celine Naef, 7-5, 2-6, 7-5.
Eala is currently No. 297 (singles) and No. 713 (doubles) in the world juniors rankings while the right-handed Mboko is No. 513 (singles) and No. 1584 (doubles).
The other girls' singles semifinal match will feature second seed Czech Lucie Havlickova and seventh seed Diana Shnaider.
Havlickova downed unseeded American Clervie Ngounoue, 6-4, 6-2, while Shnaider defeated unseeded Briton Ranah Akua Stoiber, 6-4, 6-3.
Meanwhile, the fourth-seeded pair of Eala and Andreeva withdrew in the doubles, sending Germans Carolina Kuhl and Ella Seidel to the quarterfinal round via walkover.
Andreeva suffered a wrist injury during her singles match against Eala.
The Filipino-Russian pair posted a 6-2, 6-2 win over wild card Americans Iva Jovic and Shannon Lam in the first round. (PNA)