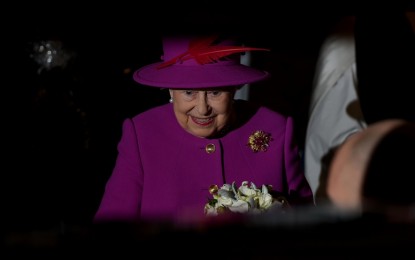 MANILA – President Ferdinand "Bongbong" Marcos Jr. on Friday mourned the passing of Queen Elizabeth II, describing the death of the 96-year-old monarch as a big loss to the entire world.
"It is with profound sadness that we receive the news of the passing of Her Majesty Queen Elizabeth II in Balmoral Castle yesterday evening," Marcos said In a Facebook post. "The world has lost a true figure of majesty in what she demonstrated throughout her life and throughout her reign as Queen."
Marcos said the queen would be remembered for exemplifying "a true monarch's great dignity, commitment to duty, and devotion to all those in her realm."
"We, together with many Filipinos living and working in England, though not subjects of the Queen, have found ourselves having developed a great sense of affection for her as a Queen, as mother, and as a grandmother," he said.
Queen Elizabeth II, Britain's longest-serving monarch, died peacefully on Thursday afternoon at Balmoral Castle, her home in Scotland, according to a Buckingham Palace statement.
She had mobility and health issues for the past 12 months because of her old age.
Her last public appearance was during the Platinum Jubilee in June.
The queen, who came to the throne in 1952 after her father's death, reigned for seven decades.
She and her late husband, Prince Philip, have four children – Prince Charles, the heir to the throne; Princess Anne; and Princes Andrew and Edward.
Following her death, Charles automatically became monarch of the United Kingdom and the head of state of 14 other realms, including Australia, Canada, and New Zealand.
Woman of faith
The Catholic Bishops' Conference of the Philippines (CBCP) also expressed grief over the passing of Queen Elizabeth II.
Bishop Crispin Varquez, chairperson of the CBCP-Episcopal Office on Women, acknowledged the Queen's seven-decade rule, which he said was significant because of her faith and appreciation for the welfare of the majority.
"Queen Elizabeth II was a woman of faith. She made Jesus the center of her life. She valued humanity," Varquez said in an interview over Church-run Radio Veritas.
The Borongan prelate said the late monarch had high regard for the belief and faith of the people including the promotion of religious freedom in the United Kingdom.
"She gained high respect and admiration of many people in the world. Her power as a woman was not based on arms and wealth but on her character and values," Varquez added.
Charles' wife, Camilla, became Queen consort. (with Ferdinand Patinio/PNA)