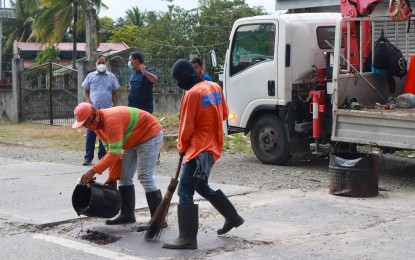 CITY OF SAN FERNANDO, Pampanga – The Department of Public Works and Highways (DPWH) 3 (Central Luzon) is stepping up efforts to repair dilapidated road sections in Nueva Ecija.
Armando Manabat, head of the DPWH-Nueva Ecija's 1st District Engineering Office, said Friday his office is going full blast in implementing palliative measures to at least reduce the worsening of the road condition caused by the passage of overloaded trucks.
Manabat said last week, he inspected the reported defects in various parts of the Cabanatuan City-Carmen and Sta Rosa-Tarlac roads.
He said the two road sections serve as an alternative route for heavy trucks that exceed the 33-ton limit imposed by the North Luzon Expressway (NLEX) Corp. and are prohibited from passing through the Candaba Viaduct in Pampanga and the Sta Rosa Bridge in Nueva Ecija.
"The road networks under our jurisdiction have become diversion routes for trucks and this is based on the recommended rerouting scheme issued by NLEX. The reason why trucks from Paniqui, Tarlac going to Bulacan province, for example, are now plying this route thereby, damaging the road's concrete pavement," Manabat said in a social media post.
He said they are closely monitoring the San Felipe Matanda and San Juan sections of the Cabanatuan City-Carmen Road in Aliaga and have deployed routine maintenance workers in some parts of the Sta Rosa-Tarlac Road in Zaragoza town to carry out more intensive repairs, especially in some parts of the road that are considered beyond routine maintenance (BRM).
District maintenance engineer Homer J. Garcia said they had to deploy additional workers to ensure that there would be sufficient manpower to respond to road-related concerns in these areas.
"As for now, since some portions of the roads have been classified as BRM, we can only apply palliative measures, and due to the continuous passing of overloaded vehicles, the damage to the pavements is getting worse so we are having a hard time restoring it to its original state," Garcia said.
Meanwhile, the DPWH-Nueva Ecija 1st District Engineering Office has begun coordinating with concerned agencies, such as the Land Transportation Office (LTO), Highway Patrol Group, and local government units to strengthen the monitoring of immoderate vehicles through the strict enforcement of the anti-overloading policy.
Manabat said he wrote a letter to LTO-3 Director Eduardo de Guzman requesting the joint operation and the implementation of the intensified campaign on Anti-Truck Overloading Mobile Enforcement.
He said the weighing apparatus would be available from September 12 to 30. (PNA)