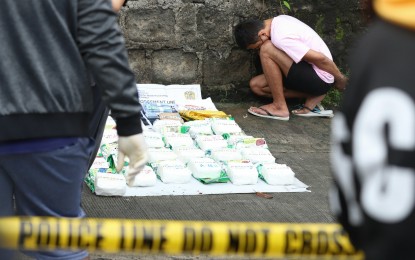 MANILA – The Philippine Drug Enforcement Agency (PDEA) on Friday vowed to explore further measures to increase the agency's conviction rate against drug personalities.
"To be frank, what I really want is a 100 percent conviction rate for all drug cases filed, but this only happens in a perfect world, so I will settle for the high conviction rates which we have at present. Of course, I am pleased with the numbers that we have been tallying, we have made leaps and bounds throughout the years with regards to legislation that aim to improve our capability to prosecute organized drug trafficking rings," PDEA Director General Wilkins Villanueva said in a statement, citing statistics of drug cases filed in court.
The PDEA's case monitoring system reported 405,062 drug cases filed in court from 2002 up to 2022. These cases include those filed by PDEA as well as other law enforcement agencies such as the Philippine National Police (PNP) and the National Bureau of Investigation (NBI).
Out of this figure, 28 percent or 114,610 cases filed in court have been resolved or have been handed out decisions by the judiciary.
From 2020 to the present, PDEA accounts for 1,668 of these resolved cases while 60.43 percent of these cases resulted in convictions, 26.98 percent resulted in acquittals and 12.59 percent of the cases were dismissed.
The PDEA noted that the conviction rates increased with the introduction of plea bargaining in drug cases.
In a 2017 landmark ruling, the Supreme Court (SC) struck down Section 23 of Republic Act 9165 or the Comprehensive Dangerous Drugs Act of 2022, saying the law's prohibition on plea bargaining in drug cases is unconstitutional.
This ruling effectively allowed plea bargaining in drug cases.
In another ruling in March 2008, the High Court defined plea bargaining in criminal cases – such as drug cases - as "a process whereby the accused and the prosecution work out a mutually satisfactory disposition of the case subject to court approval." This means that the litigation process is drastically shortened.
Plea bargaining allows the defendant to plead guilty to a lesser offense, or in cases when the accused faces a multi-count indictment, the accused may plead to only one or some of the counts of the indictment in return for a lighter sentence instead of a charge which carries a heavier penalty.
"We understand that the resolution of drug cases may drag on for years. Some of the cases resolved this year were filed two or three years ago, and so the results of resolved cases in any particular year may not reflect the quality of drug cases filed in the same year. This may be attributed to the large volume of drug cases filed in court. Even so, the statistics show that we are pointed in the right direction," Villanueva said. (PNA)