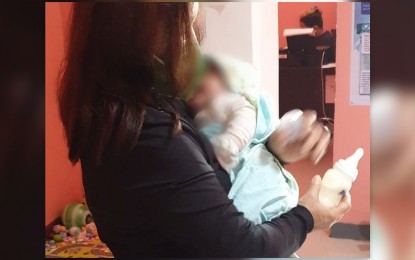 MANILA – Foundlings will now have the rights and protection they need after the signing of the implementing rules and regulations (IRR) of Republic Act 11767 or the Foundling Recognition and Protection Act on Friday.
Senator Grace Poe, a foundling herself and co-author of the measure, said she is grateful to be part of the law that grants "rights and protections at the moment of birth equivalent to those belonging to such class of citizens whose citizenship does not need perfection or any further act."
"No sweeter words could ever be written. Today, we, foundlings, are no longer invisible," Poe said. "We achieved victory with the enactment of the law. With the IRR, we hope to see all abandoned children enjoying equal treatment and every available service due them."
Poe called on concerned agencies to implement the law fully and effectively.
The National Authority for Childcare (NACC) led the ceremonial signing at a restaurant in Greenhills, San Juan City.
Department of Social Welfare and Development (DSWD) Undersecretary for NACC Janella Estrada said RA 11767 and its IRR ensure the maximum operability of RA 11642 or the Domestic Administrative Adoption and Alternative Childcare Act as well as all other relevant laws.
Under RA 11642, courts may no longer receive or accept petitions for domestic adoption.
Jurisdiction over domestic adoption cases shall now be with the newly created NACC.
"RA 11767 appends RA 11642 by providing for the assumption of being a natural-born Filipino citizen and thus, entitled to the inherent rights of being a Filipino. Dahil sa (Because of) RA 11767, we can ensure that each child is accorded to the full benefit of the law," Estrada said in her speech.
Foundlings who reach the proper age without benefiting from the legal adoption process are also covered by the law.
"By this, we accord them lifelong protection of their rights and liberties by institutionalizing our policy that they be not deprived or discriminated against by reason of being a foundling," Estrada said. "Through this measure, we also implore an inter-agency collaboration by ensuring the safety of the child by undertaking diligent and exhaustive efforts in determining the foundlings' facts of birth and parentage; and by providing appropriate childcare."
Estrada vowed that the NACC, as lead implementing agency, will provide frontline services, establish the foundlings' identities, and facilitate immediate government intervention.
"To my colleagues in the NACC and other government agencies, the tasks upon our shoulders are enormous lalo at bagong tatag pa lang po na ahensya ang NACC. There will be policy confusion, implementation jinx, difficulties in monitoring, and that near hard work and dedication may seem not enough. Pero naniniwala ako na (But I believe that) in any of that situation, babalikan natin ang dahilan kung bakit natin ito inumpisahan (we will go back the reason why we started this)," she said.
Co-author Senator Risa Hontiveros recognized her colleagues who worked on the passage of the measure despite the challenges brought by the pandemic, citing Poe, Senators Lito Lapid and Pia Cayetano, and Tingog party-list Rep. Yedda Romualdez.
"The swiftness with which we were able to push for this measure only shows our collective willingness, our urgency, our hope to do right by our children," Hontiveros said in her speech.
Former President Rodrigo Duterte signed the law in May, promoting the rights of deserted or abandoned children with unknown parents and recognizing their status as natural-born citizens.
Under the law, an abandoned child found in the Philippines or in Philippine embassies, consulates, and territories abroad is presumed a natural-born Filipino citizen, regardless of the status or circumstances of birth. (PNA)