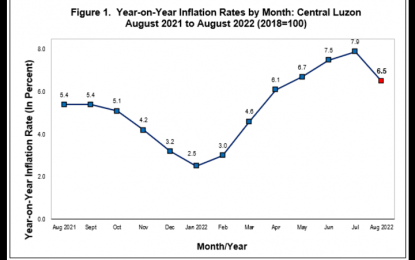 CITY OF SAN FERNANDO, Pampanga – The inflation rate in Central Luzon eased to 6.5 percent in August after six consecutive months of acceleration this year.
The latest figure was higher by 1.1 percentage points from 5.4 percent in August 2021 and 1.5 percentage points lower from 7.9 percent in July 2022.
Central Luzon is seventh among regions with the lowest inflation in August, together with the Cordillera Administrative Region also at 6.5 percent.
Zamboanga Peninsula, on the other hand, recorded the highest inflation at 9.1 percent, followed by Davao Region at 8.9 percent.
Bangsamoro Autonomous Region in Muslim Mindanao (BARMM) remained to have the lowest inflation at 4.9 percent, followed by Calabarzon at 5.1 percent.
The country's annual headline inflation also slightly eased to 6.3 percent in August compared to 6.4 in previous month.
In her report, PSA-RSSO 3 Regional Director Arlene Divino said the downtrend in inflation for August was primarily brought about by a lower annual increment in the index of food and non-alcoholic beverages at 4.9 percent from 7.3 percent last July.
This was followed by the index of transport at 15.1 percent from 19.3 percent and the index of housing, water, electricity, gas and other fuels at 9.7 percent from 10.5 percent in July.
Meanwhile, lower annual increments were noted in the restaurants and accommodation services at 2.6 percent, health at 2.4 percent, and information and communication at 0.5 percent.
On the other hand, higher annual increments were recorded for alcoholic beverages and tobacco at 13.1 percent, personal care, and miscellaneous goods and services at 4.1 percent, clothing and footwear at 3.3 percent, and education services at 1.2 percent.
The same rate of increase as that of the previous month was also observed in the indices of recreation, sports and culture at 3.2 percent, furnishings, household equipment and routine household maintenance at 2.9 percent.
The annual growth rate in the regional food index registered a lower increment of 5.0 percent in August from 7.7 percent in July.
The downward trend in the food index was primarily attributed to the lower increment in the annual growth rate of the following food indices: vegetables, tubers, plantains, cooking bananas and pulses at -13.0 percent; fish and other seafood at 5.1 percent, and meat and other parts of slaughtered land animals at 6.3 percent.
It can also be credited to the decreases in the indices of rice at 2.6 percent from 3.1 percent in July 2022, and corn at 2.2 percent from 12.3 percent in July 2022. (PNA)