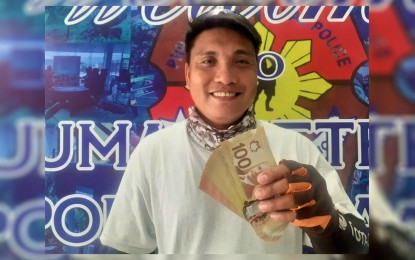 DUMAGUETE CITY – The Dumaguete City Police Station (DCPS) has commended a church pastor who also drives a tricycle for returning 7,435 Canadian dollars (more than PHP300,000) to its rightful owner.
Lt. Col. Joeson Parallag, city police chief here, told the Philippine News Agency on Friday that Pastor Junrey E. Cadeliña's honesty in returning the money sets an example for others to follow, noting that such a huge amount can be a temptation for many to keep the money instead.
"The pastor's example comes at a time when we were observing National Crime Prevention Week from September 1 to 7, and is very laudable that he came to the police station to ask assistance in identifying the owner of the money," Parallag said in mixed English and Cebuano.
Cadeliña found an unattended bundle of money along Perdices Street fronting the Cathedral in this capital city last Tuesday.
The police traced the owner the following day to a local currency trader, whose ownership was established based on video footage from the city's CCTV system.
Parallag reassured that the owner's identity was positively established, as all details and information gleaned from the video clip and the local currency trader's description had matched.
The money fell out of a pocket of the owner's cargo pants while he was driving his motorcycle, the police chief said, which could be seen in the video footage.
"Having CCTV cameras around the city is a big help to the police because they actually help us solve certain crimes and other offenses," Parallag noted. (PNA)