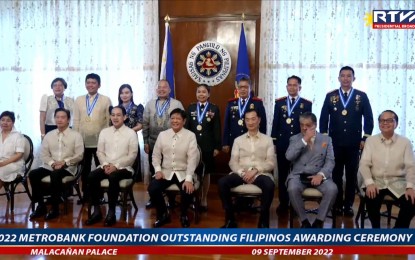 MANILA – President Ferdinand "Bongbong" Marcos Jr. on Friday commended the 10 outstanding Filipinos named by the Metrobank Foundation for rendering service above and beyond their call of duty.
During the awarding ceremony of the 2022 Metrobank Foundation Outstanding Filipinos held at the President's Hall in Malacañan Palace, Marcos said the awardees are the "living embodiment" of the phrase "beyond excellence."
"Your constant resolve to fulfill and transcend your duties to the best of your ability will exemplify what it means to be true public servants," Marcos told the recipients of the 2022 Metrobank Foundation Outstanding Filipino Award.
The awardees consist of four teachers, three soldiers, and three police officers who underwent an intensive selection process and were selected from hundreds of nominations.
The teachers who have been recognized as outstanding Filipinos are Junmerth Jorta, Teacher I and Officer in Charge of the Keupiyanan Te Balugo in San Fernando, Bukidnon; Christine Joy Aguila, Ph.D., Special Science Teacher V of Philippine Science High School – Main Campus in Quezon City; Mark Nolan Confesor, Ph.D., Professor VI of Mindanao State University – Iligan Institute of Technology in Iligan City; and Leonila Dans, M.D., M.Sc., Professor XII of the University of the Philippines Manila in the City of Manila.
For soldiers, the awardees are Technical Sgt. Joel Tuganan PA, 1st Sgt. of the Delta Company, 33rd Infantry Battalion, 6th Infantry Division in Radjah Buayan, Maguindanao; Col. Maria Victoria Juan NC, Army Chief Nurse at the Office of the Army Chief Nurse of the Philippine Army headquarters in Taguig City; and Col. Stephen Cabanlet PN(M), Assistant Chief of Unified Command Staff for Operations, U3, Western Command at Camp Gen. Artemio Ricarte in Puerto Princesa City, Palawan.
The awardees for police officers are Police Executive Master Sgt. Rogelio Rodriguez Jr., Investigator at the Anti-Fraud and Commercial Crimes Unit of the Criminal Investigation and Detection Group in Quezon City; Police Capt. Rosalino Panlaqui, Chief of Police at Jalajala Municipal Police Station in Jalajala, Rizal; and Police Col. Lambert Suerte, Battalion Commander of the Regional Mobile Force Battalion – National Capital Region Police Office in Taguig City.
Marcos thanked the awardees for their outstanding public service.
"Congratulations are not sufficient but a note of gratitude for the service you put in. It is arguable to say that the way of life of a soldier, a policeman, and a teacher could be described as one of the most difficult and often thankless jobs we ask our citizens to do, and yet you did it and you did it well," he said.
"I know, as you know, that you need no award for the things you do and it is not the reason why you do them – not for thanks, not for praise, not for honors. You do what you do because you feel the need to continue with your service and you find fulfillment in that."
Marcos expressed hope that the teachers, soldiers, and police officers hailed as outstanding Filipinos would continue to play a crucial role in nation-building.
He lauded their commitment to serving the public despite the challenges that come along their way.
"Just do what you believe to be right and do it with all your heart. This is what you have done. This is what you have kept to the idea that no matter what challenges are put before you, you will continue to serve," he said.
Marcos also thanked the MetroBank Foundation and its partners for recognizing the excellent work and dedication of the named outstanding Filipinos in their respective professions.
"Let me also thank Metrobank Foundation and its partners for spearheading initiatives such as this. This is a program that has been going on for 30 years and again it is clear, it demonstrates a clear understanding of what we are looking for in terms of public servants from our local communities, from our police, from our soldiers, and our teachers," he said.
The Metrobank Foundation, Inc. has picked the awardees based on their accomplishments, which include innovations in their respective institutions, as well as advocacies that benefit several communities.
Each awardee received a cash prize of PHP1 million, a golden medallion, and "The Flame" trophy during the conferment rites. (PNA)