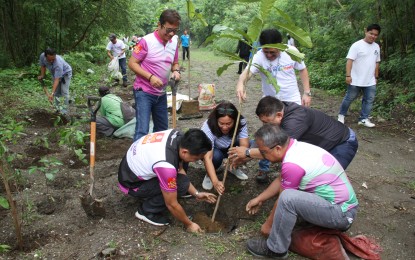 MANILA – The Nayong Pilipino Foundation (NPF) is waiting to get funds to develop its more than nine-hectare property in the Bay City in Parañaque, a ranking official said Friday.
"For now, we're at a standstill. Wala pong fund (We don't have funds for that) right now because the PHP2 billion fund that was supposed to be given to us before the pandemic was included in the Bayanihan Act, wherein the funds were given to assist the government in the pandemic efforts," NPF Executive Director Gertie Duran-Batocabe said in an interview during the foundation's tree-planting activity in the property.
Duran-Batocabe was referring to the stalled Nayong Pilipino Cultural Park and Creative Hub project, the funding of which was supposed to be transferred by the Tourism Infrastructure and Enterprise Zone Authority (TIEZA) in 2020 until the pandemic struck.
"I suppose (it is still) TIEZA na hihintayin namin (that we will have to wait for) but you know, no one has been traveling for the past two years so the funds of TIEZA were very depleted. So we talked to them and they said we were not on the 2023 list, which is understandable," she said. "But we are hoping sometime in the near future, masimulan natin ito (we could start it)."
The park was envisioned to serve as a "heritage space" with pocket gardens, open spaces, a library, and a museum that would house its "rare artifacts" and collections highlighting the country's cultural heritage.
NPF Deputy Executive Director Jovertlee Pudan shared that some legislators have committed to assist the agency.
"Malaking part ng income eventually ng Nayong Pilipino itong park sana (The park would have been a big source of income for Nayong Pilipino)," he said. "Due to pandemic and due to other events in previous years, na-deplete po ang pondo ng Nayong Pilipino. Iyon po ang nangyari kaya kahit gustuhin naming pondohan ito from our corporate operating budget, hindi po posible kasi medyo malaki talaga 'yong funds na kailangan. Kaya kailangan namin ng assistance talaga ng national government (our funds were depleted. That is what happened, which is why as much as we wanted to fund this project from our corporate operating budget, it's not possible because it would need a huge amount. This is why we need assistance from the national government)."
In the meantime, the foundation is looking to establish a tree-lined park on a portion of the 9.5-hectare land.
Aside from establishing parks and recreation centers for tourism, the NPF is also mandated to promote, encourage, and initiate research and development projects and activities in social science and humanities.
The foundation had been organizing roundtable discussions under its "Umpukan sa Nayon" program, with some of the most recent ones focused on linguistic diversity as the essence of the Filipino culture and raising awareness of the Philippines' complex history with the LGBTQIA+ community.
Its advocacy for a greener environment and nature conservation is also continuous through its "Project Sambayanihan".
Ahead of the World Environmental Health Day, Duran-Batocabe and Pudan led the planting of makaasim, Philippine ash, Palawan cherry, dita, banaba, bignay, yakal, and batino saplings at the property. (PNA)