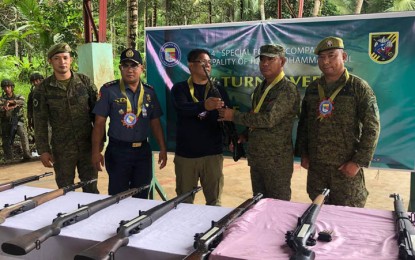 ZAMBOANGA CITY – Twenty-two high-powered loose firearms were turned over to military authorities in Basilan, officials said Saturday.
The loose firearms were handed over by Hadji Mohammad Ajul Mayor Talib Pawaki to Brig. Gen. Domingo Gobway, 101st Infantry Brigade chief, in a ceremony Friday in Barangay Buton, Hadji Mohammad Ajul.
In a statement Saturday, Pawaki said the firearms were surrendered by residents from the different barangays in his town.
Pawaki said these included 16 cal.30 M1 Garand rifles, three cal.30 Carbine rifles, an M-16 Armalite rifle, an M4 rifle, and an M-79 Grenade Launcher.
Gobway said the surrender of the firearms was a result of the relentless campaign against loose and unlicensed guns of the 4th Special Forces Battalion and the municipality of Hadji Mohammad Ajul.
"This (surrender of firearms) is in connection with the Small Arms and Light Weapons (SALW) program of the provincial government of Basilan," said Gobway, who is also the Joint Task Force (JTF)-Basilan head.
The SALW program seeks to reduce, if not eradicate, small arms and light weapons and prevent crimes in the communities.
Since the SALW program in April 2021 in Basilan, a total of 4,191 assorted firearms were stenciled and 85 individuals availed of the livelihood package in exchange for their surrendered firearms. (PNA)