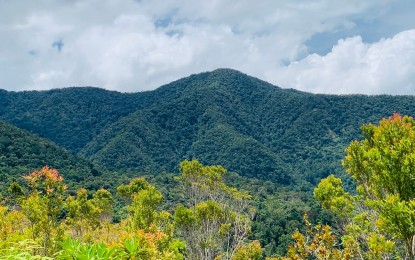 DAVAO CITY – A former lair of the communist New People's Army (NPA) will be developed into a protected area by the Department of Environment and Natural Resources in Region 11 (DENR-11) following a declaration that it is now free of insurgents.
The Pantaron Mountain Range (PMR) was a haven for the communist NPA for many years as its lush jungle was a good cover during military operations.
Maj. Gen. Nolasco Mempin, commander of the 10th Infantry Division, told the Philippine News Agency on Sunday that after their successful counterinsurgency campaign through the help of the National Task Force to End Local Communist Armed Conflict (NTF-ELCAC), they are ready to transform PRM into a peaceful and sustainable area.

"The proposal of DENR to declare the Pantaron Range as a protected area will further intensify our campaign to prevent the resurgence of the communist NPA," Mempin said.
PMR encompasses Davao del Norte in Region 11 (Davao) and Bukidnon in Region 10 (Northern Mindanao). Almost 32,000 hectares are under Davao del Norte, with the municipality of Talaingod covering the largest land area.
It is the last remaining old-growth and residual forest in Davao del Norte and is the headwater source of the Tagum-Libuganon River, Lasang River and Davao River.
DENR-11 conducted an assessment and site observation of the biophysical features of the PMR last month, studying geological formation, hydrologic value, vegetative cover, types of ecosystems, and identification of flora and fauna.
DENR said it found different plant species as well as various types of birds, bats and insects.
"The DENR will continue to put conscious efforts to preserve the Pantaron Mountain Range, its natural ecosystems including the wildlife species habituating in it," DENR-11 said in a statement.
The agency also cautioned against persistent threats and said securing the environment, natural resources, and ecosystem services is always a challenge.
"We are calling for the participation and commitment of our partner agencies, stakeholders, and lowland and upland communities to help carry through the endeavor. After all, attaining sustainable natural resources and a functional ecosystem needs a full range of help from everyone," DENR-11 said.
In a recent interview, Arian Jane Ramos, former secretary of the NPA's Guerrilla Front 55 based in Southern Mindanao, said the Pantaron Range was used by rebels for sheltering and camping.
Ramos said the range gave the rebels access to cross the two province's boundaries with ease and speed while avoiding the military and law enforcement authorities.
When in Pantaron, Ramos disclosed that NPA members were provided with supplies by their followers.
"It is a source of our water so if it is not protected, it will affect the lives of the IPs (Indigenous Peoples) residing close to the area," Ramos said.
The Communist Party of the Philippines - NPA is listed as a terrorist organization by the United States, the European Union, the United Kingdom, Australia, Canada, New Zealand, and the Philippines.
The National Democratic Front was also formally designated as a terrorist organization by the Anti-Terrorism Council on June 23, 2021, citing it as "an integral and inseparable part" of the CPP-NPA created in April 1973. (PNA)