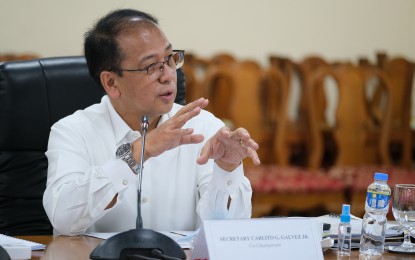 LA TRINIDAD, BENGUET – Forged on September 13, 1986, the commemoration of the historic Mt. Data Peace Accord on Tuesday will pay homage to departed community leaders and combatants of the Cordillera People's Liberation Army (CPLA), the Office of the Presidential Adviser for Peace, Reconciliation and Unity (OPAPRU) said.
As of this posting, over 50 names have been included in the initial list of those who were killed or have died of other causes while "pursuing the Cordilleran cause and pursuit of autonomy," according to OPAPRU which is leading the memorial in line with the celebration of this National Peace Consciousness Month.
The event will be marked by the laying of peace lilies by relatives of the departed at the newly constructed Inner Peace Sanctum Art Memorabilia, which is located at the Mt. Data Hotel grounds in Bauko, Mountain Province.
A tribute message, which includes the roll of names of the deceased, will be delivered by Dia Felice Balweg, daughter of slain CPLA leader Conrado Balweg.
OPAPRU Secretary Carlito G. Galvez Jr. described the individuals to be honored as "heroes of the Cordillera" for "championing the Cordilleran journey towards a peaceful and progressive autonomy."
"They deserve every accolade because of their selfless dedication to the good of the Cordilleran people, which is worth emulating," Galvez said in a news release on Saturday.
Galvez is expected to grace the event which will also be attended by top elected officials in the Cordillera, as well as members of the CPLA and its political wing, the Cordillera Bodong Administration.
Thirty-six doves will also be released following the beating of 36 gongs as a symbolic commemoration of the Sept. 13 peace pact named after its venue, the Mt. Data Hotel.
It can be recalled that the CPLA split from the New People's Army (NPA) in April 1986 and agreed to engage in peace negotiations initiated by the Aquino administration with all rebel groups.
The CPLA and the government entered into a peace deal, as both parties agreed to put an end to armed hostilities while pursuing a list of demands which included the formation of an autonomous region for the Cordillera.
The peace settlement was formalized through a traditional "sipat" (peace pact) of the Kalinga where "allasiw" (peace tokens) were exchanged as symbols of sincerity and commitment.
During the commemoration event, the tokens given by the government to the CPLA -- an M16 rifle, a Christian Bible, and rosary -- will also be presented and given a traditional blessing along with the art memorabilia. (PNA)