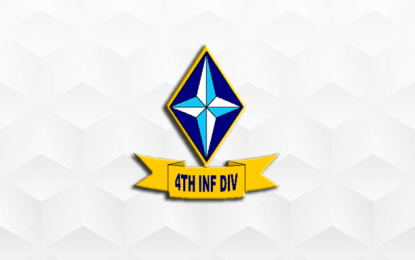 CAGAYAN DE ORO CITY – The 4th Infantry Division (4ID) of the Philippine Army on Sunday commended the troops of the 1st Special Forces Battalion (1SFBn) and the 403rd Infantry Brigade (403rd IBde) for the voluntary surrender of nine ranking leaders of the Communist Party of Philippines-New People's Army (CPP-NPA) in Valencia City, Bukidnon.
The surrenderrers were identified as Raquel Dahoyla, 41; Joen Morales, 30; Daniel Layanan, 23; Mary Jean Cololot, 28; Nelbert Binungkasan, 26; Warren A. Balanse, 30; Walisa C. Tinampakan, 28; Marlon Ampoan, 21; and Rey Unabia, 25.
They surrendered to the 1SFBn led by Lt. Col. Roger Anthony Nuylan on Sept. 8. They also turned in six high-powered firearms consisting of three M16 rifles, two AK47 rifles, and one M1 Carbine rifle.
In a statement, Maj. Gen. Wilbur Mamawag, 4ID commander, said the government has "consistently demonstrated" its sincerity in accepting former rebels back into society with better opportunities, through the Enhanced Comprehensive Local Integration Program.
"We are now reaping the peace dividends of our convergence efforts under the Task Force ELCAC (to End Local Communist Armed Conflict)," he said.
Col. Ted Dumosmog, an officer in charge of 403IBde, said the longing to see their families and family prompted the nine rebel leaders to surrender.
"Upon surrender, they were made to undergo medical checkups before being processed at Valencia City Police Station. Indeed, it is fulfilling to assist and see returning misguided brothers reunited with their families," he said.
Since January 2022, the 4ID has assisted 186 former rebels in transitioning back to the communities through livelihood programs.
Meanwhile, in Cabanglasan town, Bukidnon, a total of 340 former supporters of the CPP-NPA-National Democratic Front (NDF) from 34 People's Organizations (POs) received livelihood assistance from the Department of Trade and Industry (DTI) in collaboration with the 88th Infantry Battalion (88IB) on Sept. 8.
Under ELCAC, DTI has launched the "Pangkabuhayan sa Pagbangon at Ginhawa Program," which aims to help the beneficiaries to generate income through different livelihood programs.
The POs received livelihood packages such as agriculture and veterinary supplies, stocks for a "sari-sari" store, and a rice supply chain worth PHP2.5 million.
The CPP-NPA is listed as a terrorist organization by the United States, European Union, United Kingdom, Australia, Canada, New Zealand and the Philippines.
The National Democratic Front has also been formally designated as a terrorist organization by the Anti-Terrorism Council on June 23, 2021, citing it as "an integral and inseparable part" of the CPP-NPA created in April 1973. (PNA)