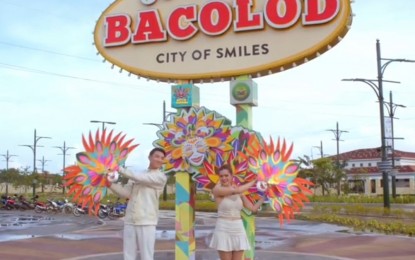 BACOLOD CITY – Less than three weeks before the world-renowned Masskara Festival returns on Oct. 1, organizers unveiled here on Monday the official website for the three-week festivities poised to be the biggest ever after a two-year hiatus due to the coronavirus disease 2019 (Covid-19).
Festival chair Pinky Mirano-Ocampo, who led the launching before the city employees at the Government Center grounds, said visitors of www.masskara.com.ph can access the calendar of activities, accommodations, special tours, and a brief history of the Masskara.
"After two years of missing out on one of the grandest festivals in the country, Bacolod is ready to smile again as we recover from the pandemic and under a new and dynamic leadership," Ocampo added.
One of the website's main features is the official music video dubbed "Smile Again", which stars "Asia's Pop Heartthrob" Darren Espanto and actress-singer Sue Ramirez.
"We hope it will catch fire in social media and generate interest among Bacolodnons and Negrenses to participate in our festivities. It is very danceable and we are hoping that it will be included in audio streaming sites like Spotify," Ocampo said.
Composed and produced by Red Events, "Smile Again" showcases sights and sounds of Bacolod.
A remix version will be used for the street and arena dance competition, one of the highlights on the festival's final day on Oct. 23, where Espanto will also perform the song live.
Ocampo said the song was inspired by the resiliency of the people of Bacolod to smile amid the challenges of life and gives significance to how Masskara Festival came about.
Now on its 43rd year, this year's edition of the festival of "many faces" is themed "Balik Yuhum", which translates to smile again or bring back the smile, a reference to Bacolod's tagline as the "City of Smiles".
Six sites will be set up for the festivities, including the main festival sites at Lacson Street, Bacolod Public Plaza, and Bacolod City Government Center as well as extension sites at Baywalk at the Reclamation Area, Upper East, and Pana-ad Park and Stadium.
The first week will feature the Masskara Sports Olympics from Oct. 1 to 8; second week, the Masskara Trade Fair, from Oct. 10 to 16; and the third week, the Masskara cultural activities, which are mainly the festival highlights until Oct. 23. (PNA)