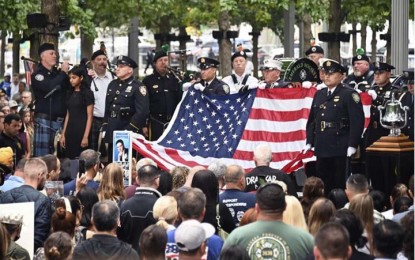 WASHINGTON – The United States on Sunday marked the 21st anniversary of the Sept. 11 attacks, with President Joe Biden expressing his resolve to continue to defend the country against terrorism following the US withdrawal from Afghanistan last year.
"And 20 years after Afghanistan is over but our commitment to preventing another attack on the United States is without end," Biden said at a memorial ceremony held at the Pentagon amid the rain. Events to honor the victims were also held in New York and elsewhere.
The mastermind behind the terror attacks, al-Qaida leader Osama bin Laden, was killed by the US military in 2011. His successor Ayman al-Zawahri, also a key planner of the attacks, was taken out in a US drone strike in late July this year in Afghanistan.
"We will not rest. We'll never forget. We'll never give up," Biden said, adding, "We'll continue to monitor and disrupt those terrorist activities wherever we find them, wherever they exist."
On the morning of Sept. 11, 2001, terrorists from the Islamist extremist group al-Qaida hijacked four commercial airplanes, deliberately crashing two of them into the twin towers of the World Trade Center complex in the city of New York and a third plane into the Pentagon in Virginia, near the US capital.
A fourth plane crashed in an empty field in Pennsylvania, about 20 minutes by air from Washington, after 40 passengers and crew members aboard resisted hijackers.
The terror attacks claimed the lives of nearly 3,000 people from more than 90 countries, including 24 Japanese people.
Kazusada Sumiyama, 85, who lost his son Yoichi Sugiyama, a 34-year-old banker who worked in one of the World Trade Center towers, skipped his customary trip to New York for the annual ceremony again this year due to the coronavirus pandemic.
"I would like to spend this day recalling these 21 years," Sumiyama, who lives in Tokyo's Meguro Ward, told Kyodo News.
Last year, Sumiyama released a Japanese translation of the US official report on the incident, hoping hindsight will help prevent a similar attack.
The terror attacks led the US to launch a war in Afghanistan against the al-Qaida organization and the Taliban regime of the time, which harbored the group.
The conflict became the longest US war in history and the notion of a troop removal from Afghanistan had been widely supported by the public. But Biden came under fire as the US pullout made way for the Taliban's return to power for the first time in about 20 years and resulted in chaotic and deadly evacuation efforts for Americans and Afghans who worked alongside the United States. (Kyodo)