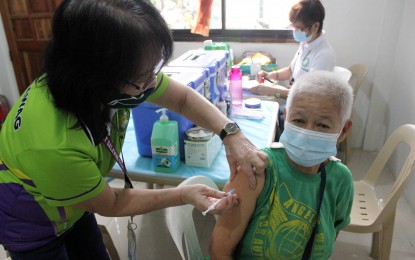 MANILA – The state of calamity declaration in the Philippines due to Covid-19 has been extended for "possibly" three months following a reported stronger wall of immunity in the country, Malacañang announced Monday.
Press Secretary Trixie Cruz-Angeles said this comes after government data showed that the country is "6 percent away from the wall of immunity."
"The state of calamity is extended for possibly three months but only for the purpose of preserving the benefits under it such as but not limited to the indemnification, emergency procurement, special risk allowance for healthcare workers," she said in a Palace press briefing.
"We're happy to announce that we are 6 percent away from the wall of immunity. That's why malakas na ang loob natin for face masks (we are confident enough to make face mask use voluntary)," she added.
President Ferdinand "Bongbong" Marcos Jr. on Monday signed Executive Order No. 3 allowing the voluntary wearing of face masks in outdoor settings, particularly in open spaces and non-crowded outdoor areas with good ventilation.
The World Health Organization (WHO) declared the Covid-19 outbreak as a global pandemic in March 2020.
Former President Rodrigo Duterte issued on March 16, 2020 Proclamation 929, declaring a state of calamity all throughout the country for six months due to Covid-19.
He later issued Proclamation No.1021 to extend the validity of the state of calamity for one year from Sept. 13, 2020 to Sept. 12, 2021.
Duterte extended the state of calamity for a third time through Proclamation No.1218 following a surge in daily Covid-19 infections.
Proclamation No.1218 will be in effect until Sept. 12, 2022, "unless earlier lifted or extended as circumstances may warrant".
As of Sept. 11, more than 72.7 million Filipinos have received their primary Covid-19 vaccination series.
Over 18.5 million Filipinos have received their booster shots.
The national government will be conducting a four-day national Covid-19 booster week from Sept. 26 to 29 to ramp up the country's booster uptake.
It aims to raise booster dose coverage to 50 percent of the total target population or 23.8 million Filipinos before Oct. 8, 2022, which marks the first 100 days of the Marcos administration. (PNA)