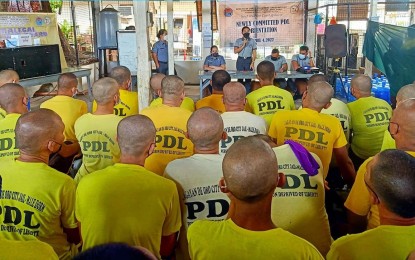 MANILA – The elderly aged at least 70 years and infirm persons deprived of liberty (PDL) will be prioritized in the granting of executive clemency in time for President Ferdinand Marcos Jr.'s 65th birthday on Tuesday.
The Public Attorney's Office (PAO) and Board of Pardons and Parole (BPP) are screening the names of PDL that may be entitled for parole, PAO chief Persida Acosta said during the Laging Handa public briefing on Monday.
Acosta said Department of Justice (DOJ) Secretary Jesus Crispin Remulla tasked the PAO and BPP to finalize the list that will be submitted for the approval of the President.
The DOJ earlier announced 300 PDL will be granted absolute or conditional pardon and commutation of sentence.
"We are very optimistic na magkakaron ng magandang balita at aksyon (that there would be favorable action [on the recommendation for clemency])," Acosta said. "It will benefit the dying, sickly, elderly at 'yung nakapagsilbi na po ng matagal na at karapat-dapat na (those who have served lengthily and are now qualified for clemency)."
Executive clemency refers to the commutation of sentence, conditional pardon and absolute pardon that may be granted by the President upon recommendation of the BPP.
Absolute pardon is the total extinction of the criminal liability of a PDL that will result in the full restoration of civil rights.
On the other hand, a PDL who has served at least half of the maximum original prison term may apply for conditional pardon.
A commutation of sentence may be granted by the President after a review of the BPP to determine if the minimum requirement that at least one-third of the definite aggregate prison term (without minimum and maximum period) or half of the minimum of indeterminate (with minimum and maximum period) of the aggregate prison term have been served.
It translates into 10 years for PDL sentenced to one reclusion perpetua (20 years and 1 day to 40 years) so long as the crime is not among those considered heinous.
Those convicted of heinous crimes committed after Jan, 1, 1994 and who have served at least 15 years of a sentence for reclusion perpetua may also apply for commutation.
Likewise, those who have served at least 18 years of reclusion perpetua for drug charges, kidnapping for ransom or other violation of the laws on terrorism, plunder, and transnational crimes; and those who have served 25 years and were originally sentenced to death penalty but saw their sentence automatically reduced to reclusion perpetua may apply.
Also eligible to apply are PDL sentenced to a "definite" prison term of 40 years and who have served at least 13 years.
A prisoner released on parole or conditional pardon is placed under the supervision of a probation and parole officer.
The Philippines abolished the death penalty for the second time in 2006. (PNA)