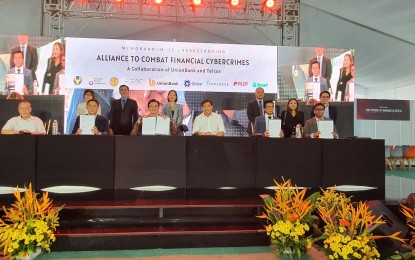 MANILA – A group of private companies in the telecommunications and digital space has signed a memorandum to strengthen cybersecurity and combat financial crimes through fraud prevention and data sharing measures.
The memorandum of understanding (MOU), the Private Sector Advisory Council said, is the answer to the Advisory Opinion 2021-06 issued by the National Privacy Commission (NPC) allowing for the sharing of relevant data for fraud investigations due to the rising number of phishing and cybercrime cases.
"Under the recently signed MOU, all telcos (telecommunications companies) have committed to creating a framework to share relevant data in order to profile fraudsters abusing technology and victimizing Filipinos without requiring a very lengthy court order to extract information about fraudsters," it said in a statement Monday.
In addition to sharing expertise between these companies, the MOU will help in taking down malicious sites and phishing links as well as initiate the creation of quick response teams composed of their own cybersecurity specialists to prevent, monitor, report, and resolve cybersecurity incidents.
READ: Private sector vows support for Marcos admin's infra projects
The MOU was signed by executives of UnionBank, Globe, Smart, and Converge during the 2022 UnionBank Innovation Festival in San Pedro, Laguna.
UnionBank chief information security officer Joey Rufo invited Globe Group CISO Anton Bonifacio, Smart SVP and head for enterprise Joseph Gendrano, and Converge CISO Benjamin Azada to sign the MOU.
Other signatories include UnionBank anti-financial crimes governance head and PSAC digital infrastructure secretariat Ernesto Herrera III, Smart CISO Angel Redoble, Converge chief technology officer Paulo Martin Santos, and the respective data protection officers of each firm -- Leah Jimenez from Smart and Laurice Tuason from Converge.
The digital infrastructure group of PSAC was formed in August to provide President Ferdinand "Bongbong" Marcos Jr. with "practical recommendations" from the private sector to achieve wider internet access and advance digitization initiatives. (PNA)