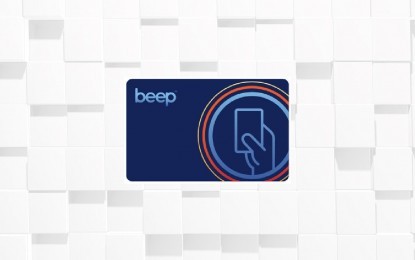 MANILA – The operator of the Beep card, a stored value contactless card platform commonly used in public transport, is offering free accident insurance to its users who register their cards in the Beep mobile application (app).
In a statement on Monday, AF Payments Inc. (AFPI) said interested users must register their card in the Beep app -- available for download in the Apple App Store, Google Play store, or the Huawei App Gallery -- from Sept. 5 to Dec. 5 this year to avail of the promo.
Qualified users are entitled to PHP10,000 life insurance coverage for death due to an accident, PHP10,000 for total permanent disablement from an accident, up to PHP10,000 benefit for dismemberment and or disablement from an accident, and PHP2,000 burial expense benefit following accidental death.
"Only one card per account is eligible for the free insurance. Moreover, new Beep cards registered in an existing Beep app account do not qualify," AFPI said.
The coverage is valid for one month from the date of registration and customers will receive their proof of cover, including details on how to claim benefits, in their registered email address.
AFPI chief commercial officer Sharon Fong said the promo was made in partnership with Malayan Insurance to help "provide peace of mind and a sense of security to passengers."
"As we continuously work to deliver a convenient and reliable payment system, we want to empower our customers to maximize the benefits that come with their Beep card," Fong said.
Beep is commonly used to pay fares at the Light Rail Transit Line 1 (LRT-1), Light Rail Transit Line 2 (LRT-2), Metro Rail Transit Line 3 (MRT-3), and select buses and other public utility vehicles nationwide.
Through the Beep app, cardholders may check their load balance in real-time, monitor their card transactions, purchase QR tickets, load/fetch load for NFC-enabled Android phones, and earn reward points. (PNA)