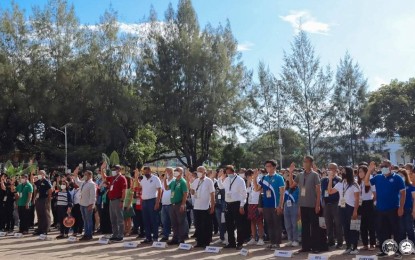 SAN JOSE DE BUENAVISTA, Antique – The Civil Service Commission (CSC), in partnership with the Council of Human Resource Management Practitioners (CHRMP) of Antique, will be holding a fun run on Sept. 16 to raise fund to be given as aid to bereaved families of government employees who died in the line of service.
The fun run from the Evelio B. Javier Park to the Robinson's Mall in San Jose de Buenavista and vice versa is one of the activities lined up for the 122nd CSC anniversary this September, said CSC Field Office Antique Director Andre L. Ladigohon during a virtual press conference on Monday.
"The fun run registration of PHP50 each for regular employees and PHP20 for students who will be participating will go to the CSC Pamanang Lingkod Bayani program," he said.
Ladigohon said that whatever amount that will be collected will be sent to their central office to be used as death aid to families of government employees or scholarship for their children under the Pamanang Lingkod Bayani program.
"As I may recall during the height of Typhoon Yolanda, one municipal employee of Concepcion town in Iloilo province was recipient of the aid through the Pamanang Lingkod Bayani program," he said.
He said that for this year he still does not know if there will be a beneficiary from Antique or in Western Visayas of the national program.
Apart from the fun run, a tree planting will be held in Barangay Binanogan, Valderrama town on Sept. 29.
Those who would like to register for the fun run and tree planting activities could either get the form at the Human Resource Management Office of the Antique provincial government or at the CSC Field Office in Antique.
Meanwhile, Ladigohon urged government employees to live up as servant heroes who always give priority in attending to the interest of their clients or the public.
"Let us not surrender to the crisis due to the coronavirus disease 2019 (Covid-19) that we are facing, but continue to provide public service," he said. (PNA)