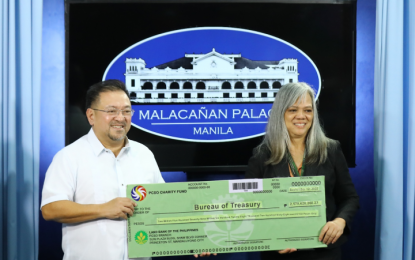 MANILA – The PHP2.5 billion additional funding for the government's Universal Health Care (UHC) program is expected to translate to better financial protection for all members of the Philippine Health Insurance Corporation (PhilHealth), an official said Monday.
PhilHealth spokesperson Dr. Shirley "Gigi" Bajamonde made this remark following the Philippine Charity Sweepstakes Office's (PCSO) turnover of a check remitting PHP2.5 billion to the Bureau of Treasury as additional funding for the program that gives Filipinos equitable access to quality and affordable health care goods and services.
Bajamonde received the check from PCSO general manager Mel Robles.
"We are very happy to be the recipient of these funds from PCSO. We have lined up several benefits for the use of these funds. These funds will be transmitted to the Treasury and will be remitted to PhilHealth through the national subsidy for benefit improvement," Bajamonde said in a press briefing at Malacañan Palace.
She said the amount will be a separate subsidy from the funding in the General Appropriations Act used for the premiums of indirect contributors.
"This fund is specifically for benefit improvement and will not in any way be used for any admin[istrative] expense. So, we're very happy that we will be receiving these funds because it will translate to better financial protection of all our members," she added.
Bajamonde said the PHP2.5 billion fund will not be used to pay reimbursement claims mostly for services rendered to Covid-19 patients but will be part of the "special fund in the coffers of PhilHealth."
"It will be used only, specifically for benefit improvement. And in fact, we'll be coming out with a medium-term expenditure plan for these funds from PAGCOR [Philippine Amusement and Gaming Corporation] and PCSO with the coordination and approval also of the two agencies," she added.
She said the funds are expected to increase dialysis sessions for patients, orthopedic benefits, and improve its "Z" benefit package that will primarily address catastrophic cases.
The UHC Law or Republic Act 11223, signed into law by former President Rodrigo Duterte on Feb. 20, 2019 seeks to protect and promote Filipinos' right to health by automatically enrolling them in the government's health insurance program.
PhilHealth is the agency tasked to lead the implementation of RA 11223.
In his first State of the Nation Address on July 25, President Ferdinand "Bongbong" Marcos Jr. emphasized the need for a stronger health care system.
He said his administration will also exert all efforts to improve the welfare of the country's doctors, nurses and other medical front-liners.
Meanwhile, Robles assured that the PCSO continues to coordinate with the Philippine National Police (PNP) to curtail "jueteng" and illegal small town lottery (STL) activities.

"It is a fact that we have a lot of illegal operations and we are doing our best to contain them. Because, yes, they directly affect our contribution to the Universal Health Care, but rest assured we are working…We don't have police powers but we are using a lot of persuasion and legal moves to curtail the operations of the illegal jueteng," he said.

"We are doing our best to have this prevented para naman (so that) the legal STL, who are paying their taxes and in fact contributing to the coffers of PhilHealth, can operate and proliferate," he added. (PNA)