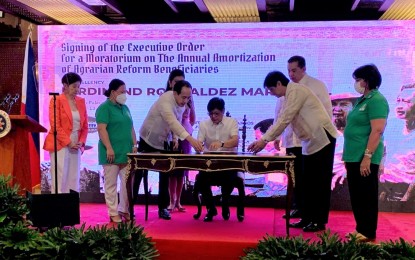 MANILA – President Ferdinand "Bongbong" Marcos Jr. has made true his promise of unburdening farmers of their debts with the signing of an executive order (EO) imposing a yearlong moratorium on the payment of land amortization and interest payments.
In a press release, the Department of Agrarian Reform (DAR) announced that Marcos signed the EO on Tuesday, which is also the day he celebrates his 65th birthday.
"Marcos, Jr. today signed the Executive Order imposing a year-long moratorium on payments on the annual amortization and interest payments of ARBs for agricultural lands distributed under the Comprehensive Agrarian Reform Program (CARP)," the DAR said.
DAR Secretary Conrado Estrella III said the EO was signed in preparation for the possible passage of a law that would condone unpaid amortization and interests of agrarian reform beneficiaries (ARBs).
"We always think about the farmers' welfare. The one-year moratorium and condonation of farmers' loan payment will lead to freedom of farmers from debts," Estrella was quoted saying.
He also expressed willingness to work and cooperate with the Congress in amending Section 26 of Republic Act 6657 or the Comprehensive Agrarian Reform Law of 1988.
It was during Marcos' first State of the Nation Address (SONA) where he announced that he intends to issue an EO to impose a yearlong moratorium on the payment of land amortization and interest payments.
"A moratorium will give the farmers the ability to channel their resources in developing their farms, maximizing their capacity to produce, and propel the growth of our economy," Marcos said in his SONA on July 25.
Marcos also appealed to Congress to pass a law that will amend Section 26 of RA 6657 as it is seen to emancipate the ARBs from the debt burden.
"In this law, the loans of agrarian reform beneficiaries with unpaid amortization and interest shall be condoned," he said.
ARBs set to receive their awarded land under the CARP will receive it "without any obligation to pay any amortization," he added.
Marcos said the condonation of the existing agrarian reform loan would cover PHP58.125 billion.
It will also benefit 654,000 ARBs involving a total of 1.18 million hectares of awarded lands.
Under EO 75, all government agencies, bureaus, departments and instrumentalities to turn over agricultural lands to qualified agrarian reform beneficiaries.
Currently, the government has a total of 52,000 hectares of unused agricultural lands which will be distributed to landless war veterans, landless surviving spouses and orphans of war veterans, and landless retirees of the Armed Forces of the Philippines and the Philippine National Police.
Graduates of college degrees in agriculture who are landless will also benefit from the agricultural lands acquired through EO 75. (PNA)