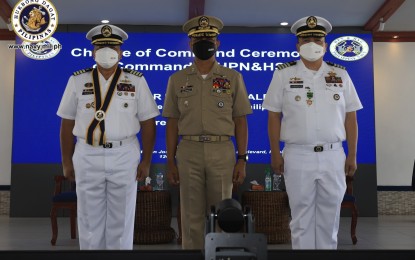 MANILA – Navy Capt. Hilarion Cesista was appointed as the new commander of the Headquarters Philippine Navy and Headquarters Support Group (HPN & HSG).
PN spokesperson Commander Benjo Negranza, in a statement Tuesday, said Cesista replaced Capt. Rolando Sarmiento in a ceremony on Monday.
Cesista served as the deputy Naval Inspector General before his new designation while Capt. Sarmiento, who served as HPN & HSG commander for almost four years, assumed command of the Naval Combat Engineer Brigade last Sept. 1.
The HPN & HSG is a support unit that provides administrative, service support, and security to the PN headquarters in Naval Station Jose Andrada (NSJA), Roxas Boulevard, Manila.
"The change of command ceremony took place here on Monday, Sept. 12 with acting Flag-Officer-In-Command, Rear Admiral Caesar Bernard Valencia, as the presiding officer. He underscored the significance of maintaining the security and facilities of NSJA in the highest terms being the Navy's show window that houses its command team," Negranza said.
Valencia recognized Sarmiento for performing "his best as an agent of change during his term" and "for efficiently adapting the Naval Station Jose Andrada to the changing contexts and times" in view of the disruptions brought by the pandemic.
Under Sarmiento's term, additional offices were created to strengthen the unit's administration and security capabilities, and the improvement of its Annual General Inspection (AGI) rating as a consistent mission-capable unit.
Valencia also put high expectations on the new manager and caretaker of the unit given his previous designations which involved inspection and evaluation of operational readiness and training.
"I am confident that the incoming commander will be up to the challenge of maintaining this command's overall mission readiness and effectiveness," he added. (PNA)