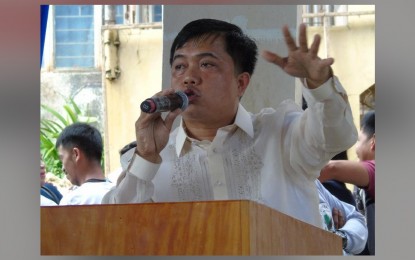 TACLOBAN CITY – The local government unit of Matuguinao, Samar has expressed concern over recent attempts of the New People's Army (NPA) to recover five previously-influenced villages cleared through the efforts of the Task Force to End Local Communist Armed Conflict (TF-ELCAC).
Matuguinao town Mayor Aran Boller said in a phone interview Tuesday there are recent sightings and recruitment attempts in some remote communities of their town.
The mayor said residents have been reporting to the municipal government about the presence of armed men in the far-flung villages of San Roque, Inubod, Carolina, Ligaya, and Del Rosario.
Village chiefs of these five communities which were earlier cleared from NPA threats opted to stay in the house of their relatives in the town center for fear of rebel attacks.
These five village chiefs are among the 118 former NPA members and staunch supporters who heeded the mayor's call to surrender and pledged their allegiance to the government on Feb. 19, 2021.
These remote villages are included in the list for implementation of the Barangay Development Program (BDP) this year. In December 2021, the Senate reduced the BDP budget to only PHP4 million from PHP20 million for each village.
"With the BDP budget cut, we can only build some classrooms and set up a water system. Our proposal is to build access roads to speed up the delivery of services that will eventually end insurgency," Boller added.
Even with the budget cut, Boller said mayors should work together to end insurgency since they are the chairs of the municipal task force ELCAC.
"There should be collaborative efforts and whole-of-nation approach to end insurgency since NPA members don't just stay in one place. If officials in other towns in Samar and Northern Samar have no efforts to end armed conflict, it will always affect us," Boller told the Philippine News Agency.
The mayor also appealed to the national government to make TF-ELCAC a priority that will pave way for the development of remote communities.
Executive Order (EO) No. 70 issued by then-president Rodrigo Duterte in 2018 gave birth to the national TF-ELCAC. The directive also institutionalizes a "whole-of-nation approach" to attaining an inclusive and sustainable peace.
Matuguinao is a fifth-class town in Samar province with a population of 7,288 people. The town is 105 kilometers from Tacloban City, the regional capital.
The NPA, which has been waging a five-decade armed struggle against the government, is listed as a terrorist organization by the United States, the European Union, the United Kingdom, Australia, Canada, New Zealand, and the Philippines.
The National Democratic Front has also been formally designated as a terrorist organization by the Anti-Terrorism Council on June 23, 2021, citing it as "an integral and inseparable part" of the CPP-NPA created in April 1973. (PNA)