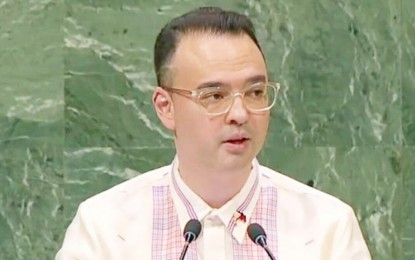 MANILA – The government must convene its agencies to improve the social protection of Filipino workers and strengthen their safety nets including the retirees.
This was the observation of Senator Alan Peter Cayetano at Monday's organizational meeting of the Senate Committee on Labor, Employment and Human Resource Development, adding that the state financial aid program can serve as protection of workers.
Cayetano said this was done during the administration of former President Joseph Estrada when officials from the Social Security System, Government Service Insurance System, Department of Finance, Department of Social Welfare and Development, Department of Labor and Employment, and other government agencies and non-governmental organizations implementing social protection programs came together to coordinate their policies.
"I think the (government's) social protection cluster can come up with some programs that will actually hit two or three birds with one stone," he said.
The lawmaker focused on the labor department's Tulong Panghanapbuhay sa Ating Disadvantaged/Displaced Workers (TUPAD) emergency employment program, which started at the onset of the coronavirus disease 2019 (Covid-19) pandemic in 2020.
He suggested that DOLE and SSS can work together to maximize the TUPAD program to continue helping workers in the post-pandemic recovery phase while also reactivating them as paying social security members.
He said strengthening the safety nets for Filipino workers could minimize or even eliminate the need for large-scale financial aid programs such as those at the height of the pandemic.
The senator, however, also acknowledged that more needs to be done to improve the current safety net for workers as these are insufficient for even their basic needs, adding that the average retiree only collects meager monthly social security pensions of PHP3,000 to PHP4,000 and are forced to depend on their working children or on savings.
"I think this is something long-term we can work on. Realistically, maybe to fix it, 10, 20 years, kaya marami sa atin nakalimutan na kapag naayos, pero (we forgot this when it is fixed, but) if we don't start now, hindi natin maayos yun eh (we cannot fix the problem)," he said. (Leonel Abasola/PNA)