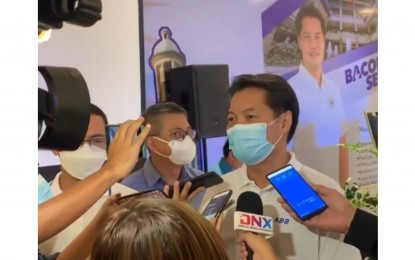 BACOLOD CITY – Mayor Alfredo Abelardo Benitez here has welcomed the decision of the Commission on Elections (Comelec) Second Division dismissing the electoral protest filed against him by his predecessor Evelio Leonardia.
"As expected, I had always believed it was not a protest to take seriously," he told reporters on Monday afternoon, but said he has not officially received a copy of the order yet.
"We know for a fact it was a clean and orderly elections. There were no reported irregularities. Majority of the votes have already spoken. (We) might as well focus on more important matters in getting our services and commitments (delivered) to the City of Bacolod," he added.
In Election Protest Case No. 008-2022, Leonardia had sought a manual recount of the votes in all 450 clustered precincts and asked the Comelec to declare "failure of elections" and conduct special polls due to alleged massive vote-buying and the presence of fake voters.
After unofficial copies of the eight-page Comelec ruling circulated on social media last weekend, the camp of Leonardia also said they have not received yet a copy of the order.
The Sept. 7, 2022 order, signed by Presiding Commissioner Marlon Casquejo and Commissioner Rey Bulay, dismissed the election protest for "being improperly filed and for being insufficient in form and content."
"It bears stressing that the process of manual recount is not a tool intended to replace proof with suppositions or evidence with assumptions. Baseless and unsubstantiated protest remains impermissible in order to fully protect the true will of the electorate as truthfully reflected in the results of the elections," the order further stated.
It added that "(t)hough defeat in any election is desolating for the losing candidate, an election protest must not be used as a vindication of a lost opportunity to serve the public, or at worst an unjustified assertion of wounded pride".
During the May 9 elections, Benitez, who ran under the Asenso Bacolod party, got 171,893 votes while Leonardia of Grupo Progreso garnered 107,447 votes.
In a statement, Leonardia's spokesperson, Dr. Chris Sorongon, said they "cannot comment yet on the reported decision being unaware of the reasons allegedly made by the Second Division".
Still, he said their camp will "exhaust all available legal remedies to ensure justice will be done to the voters of Bacolod City". (PNA)