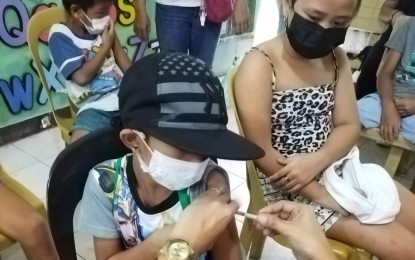 MANILA – A House leader on Tuesday asked the national government and the Department of Health (DOH) to study and consider the vaccination of children aged between 3 to 5 years old against the coronavirus disease 2019 (Covid-19).
In a press conference, Deputy Majority Leader Lorenz Defensor said while the number of children 3 years to 5 years of age infected with Covid-19 is not as high as the adults infected with the disease, they are still more susceptible to Covid-19 infection and have a higher risk of transmission especially with more relaxed health protocols observed nationwide.
"And with Malacañang's recent order to allow voluntary wearing of face masks in non-crowded outdoor areas, our children need more protection from Covid-19. And I believe that their inclusion in the government's vaccination program will better protect them against the disease," Defensor said.
Defensor has filed House Resolution No. 270 urging the DOH to include children aged 3 to 5 in the vaccination program amidst the rising number of Covid-19 infections.
"According to the World Health Organization, children under the age of 5 have a higher risk of other diseases with clinical presentations that overlap with Covid-19, such as pneumonia and other viral upper respiratory tract infections, which may lead to misclassification," the resolution read.
Defensor also noted that the power of incentivization or giving incentives to Filipinos is important, whether it's for administering boosters or primary dose of Covid-19 vaccines.
"I absolutely agree that we should incentivize [boosters]. Our LGUs (local government units) continue to do that practice of incentivizing. 'Yung iba po may bigas, 'yung iba po may cash incentive, 'yung iba may discounts (Others give rice, cash incentive or discounts)," he said.
He said providing incentives is similar to giving "ayuda" (cash assistance) that helps uplift the lives of poor Filipinos.
"It's also one way of reaching out, na hindi lang sila ma-vaccinate. Parang ayuda na rin po iyon especially to the poorer sector of society (It's not just to vaccinate. It is also meant as assistance, especially to the poorer sector of society," he said. "Papapuntahin mo sila sa vaccination site, mamamasahe naman sila eh. Kailangan din nilang may dala-dala pauwi (If you ask them to go to the vaccination site, they would still spend money commuting. They need to bring something with them going home)."
Defensor said providing incentives can help sway parents into allowing their children to get the primary dose of Covid-19 jabs.
"It's a challenge now but again we go back to education and we go back to incentivizing our parents and our children. Dapat sila mapabakuna. Dalawa lagi: (They should get vaccinated. Two things:) education, to encourage; and incentivize to encourage even more," he said.
He said the vaccination of more Pinoys will result in better utilization of the national budget, since the funds would not end up idle.
It will also lessen the chance of vaccine wastage amid the Department of Health's (DOH) recent pronouncement in ongoing budget hearings in the House that over 20 million jabs in the country have expired. (PNA)