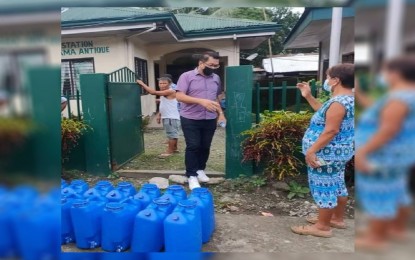 SAN JOSE DE BUENAVISTA, Antique – The municipal government of San Remigio has expressed alarm over the 73 reported cases of diarrhea with three deaths from its two upland barangays with contaminated drinking water as the suspected source of infection.
The municipality's rural health doctors and health workers joined Mayor Margarito Mission Jr. during a visit to the far-flung barangays of General Fullon and Banbanan on Sept. 10 a day after receiving a report and found out the cases were clustered in 23 families.
"We went to General Fullon and Banbanan bringing with us medicines and gallons of mineral water to be distributed to the affected individuals," Mission said in an interview on Tuesday.
The 20 gallons of mineral water will be for diarrhea victims to drink.
The mayor said that the fatalities were unable to seek medical attention as it will take about eight hours by foot to reach the rural health unit located in the town proper.
"One of the casualties is even a barangay councilor of Banbanan," Mission said.
The municipal government will be providing burial assistance of PHP5,000 each to the families of the fatalities.
The water of affected residents is being sourced from a spring on the border of Barangay Iglinab in the municipality of Valderrama.
"Today, a team of health workers from our municipality again went there to check on the condition of the people," Mission said.
The mayor is also now coordinating with the municipal government of Valderrama to improve the source of drinking water in the area.
Valderrama Municipal Information Officer Eric Espia, in a separate interview, said Mayor Jocelyn Posadas has already directed residents in Barangay Iglinab to temporarily stop sourcing their drinking water from the system until the test result of the sample is released.
"Our sanitary inspector has already taken a water sample for analysis," Espia said, adding that contamination was possible due to the recent downpour.
An information and education campaign has been carried out for people to immediately seek medical consultation if experiencing diarrhea. (PNA)