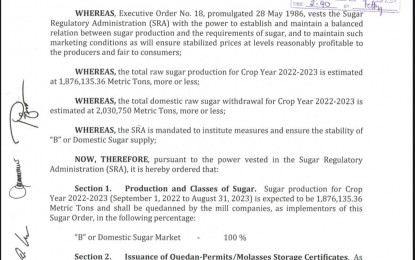 MANILA – The Sugar Regulatory Administration (SRA) is set to allocate the country's entire sugar production for the cropping year 2022-2023 for domestic use.
According to Sugar Order (SO) 1 released on Tuesday, which President Ferdinand "Bongbong" Marcos Jr. also signed as concurrent Agriculture chief and SRA board chairperson, over 1.8 million metric tons of sugar will be made available to the market.
"Sugar production for Crop Year 2022-2023 is expected to be 1,876,135.36 metric tons and shall be quedanned by the mill companies, as implementers of this Sugar Order, in the following percentage: 'B' or Domestic Sugar Market- 100 percent," it said.
The cropping season is set on Sept. 1, 2022, until Aug. 31, 2023, while sugar allocation classifications include A for US quota, B for domestic market use, C for reserve, and D for the global market.
However, the SRA said adjustments may be made with consideration of the production assessment, as indicated in Section 3.
"The SRA shall undertake assessment of the Crop Year 2022-2023 sugar production and withdrawals trend. On the basis of such assessment, SRA may from time to time adjust the percentage allocation or distribution to other classes of sugar," it said.
The SO1 also reiterated that all unused quedan-permit forms shall be "shredded and not allowed for use" for the said crop year, as well as the succeeding years.
Signatories, meanwhile, included Marcos, as well as other SRA Board officials, including Agriculture Undersecretary Domingo Panganiban, Acting SRA Director David Thaddeus Alba, Acting Board Member-Millers' Representative Ma. Mitzi Mangwag, and Acting Board Member-Planters' Representative Pablo Luis Azcona.
Earlier, the issuance of the retracted SO4 became controversial as Marcos rejected the authorization of the supposed importation of 300,000 metric tons of sugar, which was eventually declared "illegal."
Following the sugar fiasco, signatories to the order tendered their resignations while the Senate Blue Ribbon Committee sought to file administrative cases against DA Undersecretary Leocadio Sebastian, former SRA chief Hermenegildo Serafica, SRA Board Member Roland Beltran, and SRA Board Member Aurelio Valderrama Jr. (PNA)