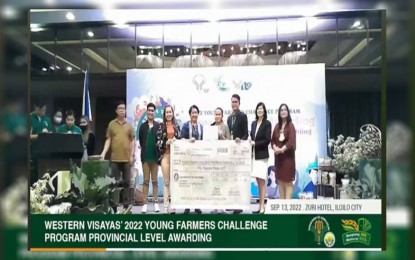 ILOILO CITY – Eighty business model canvasses (BMCs) proposed by 52 individuals and 28 groups from Western Visayas received a total of PHP5.4 million from the Department of Agriculture (DA) to help turn their agribusiness ideas into reality during the awarding ceremony for the provincial winners of the Young Farmers Challenge Program Tuesday afternoon.
"DA would like to develop that other than a producer, farmers should be agri-preneur and we will start from our youth. The new generation of farmers and fishers and agripreneurs will not only be producers of basic food commodities but likewise farmer and fisher entrepreneurs," said DA-Western Visayas Regional Executive Director Remelyn Recoter in her message.
The program was launched last year to encourage youths to engage in agriculture and fisheries to address the aging population of the sector.
Recoter said they have received varied models across livestock and poultry, crops, processing, and other new initiatives along the value chain.
"With your business model we expect that your enterprises will be an inspiration to the other out-of-school youths, those taking up BS Agriculture and other related course and the community not only to help your respective families but also the community and your province and the whole of Western Visayas," said the regional executive director.
She added that the ultimate goal of their business enterprises is to earn income for their families and likewise generate jobs.
Winners of individual proposals received PHP50,000 each and PHP100,000 for each of the group BMCs.
Iloilo province has the most awarded proposals consisting of 23 individuals and nine groups with cash prizes totaling PHP2.05 million followed by Negros Occidental with PHP1 million for eight individuals and six group BMCs.
Aklan has PHP550,000 for the five individual and three group proposals, Antique received PHP200,000 for two individuals and one group BMC, Capiz has PHP850,000 for 11 individuals and three group proposed projects, and Guimaras has PHP750,000 for three individuals and six group BMCs.
From among the provincial winners, DA will select regional winners that will receive an additional PHP150,000 and a chance to join the national competition where PHP300,000 additional cash support awaits the winners. (PNA)