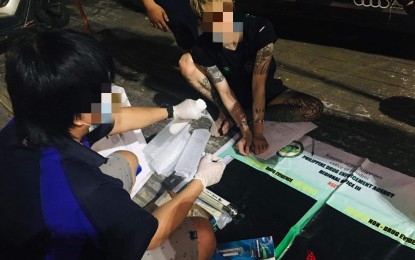 MANILA – The current administration is taking a new approach when it comes to handling the rampant narcotics trade, President Ferdinand "Bongbong" Marcos Jr. said, emphasizing the need to focus on the treatment and rehabilitation of drug users.
"The war on drugs will continue but we have to do it in a different way," Marcos said during an exclusive interview with TV host Toni Gonzaga aired on AllTV Channel on Tuesday.
Marcos said the drug war was not mentioned in his first State of the Nation Address (SONA) delivered on July 25 because "it is an internal matter."
He added that there was already a "working group" tasked to formulate a new policy against the prevalence of illegal drug trade in the country.
"They knew about the war on drugs. We are looking more in the upstream, upstream of the problem, the prevention," Marcos said. "So, all of that. And those who are already involved o naadik na (or drug addict), we should treat them. We're trying to… In fact, right now, we are trying to formulate how, what is the latest and what's the best way for rehabilitation."
In August, Press Secretary Trixie Cruz-Angeles said the Marcos administration will adhere to the rule of law while sustaining the fight against illegal drugs.
Marcos has entrusted Philippine National Police (PNP) chief Gen. Rodolfo Azurin Jr. to come up with policies that would ensure that the anti-narcotics campaign is compliant with the law.
Azurin earlier ordered an audit of the drug situation in the country, focusing on areas where prominent drug personalities were killed.
He also sought a partnership between the PNP and other government agencies to ensure that the drug supply chain in the country would be "reduced, if not cut totally."
Azurin also vowed to pursue close cooperation with village officials for the treatment and rehabilitation of drug users.
Death penalty nixed
On the proposal to revive the death penalty to prevent heinous crimes, Marcos said it is "a tough one to get around."
Marcos, who earlier rejected the planned revival of the death penalty, raised the "practical" and "moral" issues surrounding the proposal.
"Death penalty is tough one because there is a practical issue and a moral issue involved. And the question is: Does society have the right to kill its own people?" he said.
"And as a practical matter, does the death penalty, actually, does it discourage people from committing heinous crimes? And I think the data, not only from the Philippines but from other countries, shows that we have to be very stringent about applying the law," Marcos added.
Not rejoining ICC
Marcos also reiterated his stance not to rejoin the International Criminal Court (ICC), maintaining that the Philippines' justice system is working.
Quizzed if there is a possibility for him to reconsider rejoining the ICC, Marcos said there is "no need" for the international court to control the Philippines.
"I don't see any reason why we should. The ICC is supposed to take action if the country has no functioning judiciary," he said. "That condition does not exist in the Philippines. So, I don't see what role ICC is going to play here in the Philippines."
Marcos also cited that the country even has "brilliant lawyers."
"The alleged crimes were committed in the Philippines. They were all committed by Filipinos. Why will we need a foreigner to tell us how to deal with it?," he said. (PNA)