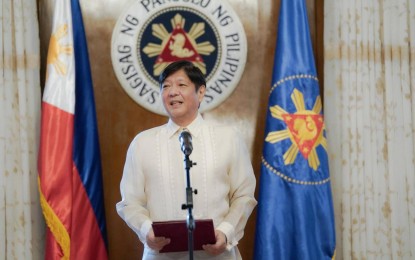 MANILA – Martial law was painted as a dark chapter in Philippine history because the "victors" wrote it," President Ferdinand "Bongbong" Marcos Jr. said Tuesday.
Just a week before the anniversary of martial law on Sept. 21, Marcos echoed his father, the late former President Ferdinand E. Marcos Sr., in maintaining that martial law was declared to suppress the armed rebellion from two fronts.
He said military rule was needed to prevent rising disorder caused by the new Communist Party of the Philippines-New People's Army (CPP-NPA) and the Muslim separatist movement of the Moro National Liberation Front (MNLF).
"Martial law was declared because of the two wars we're fighting on two fronts and that is in the countryside, the CPP-NPA was fomenting revolution. They wanted to bring down the government through violent means so the government had to defend itself. The second front was the secessionist movement down in the south led by MNLF and chairman Nur Misuari at the time, he started that uprising, the secessionist movement, and that eventually turned into violence and essentially war that was even supported," he said in an interview with TV host-actress Toni Gonzaga aired on ALLTV Channel on Tuesday.
"Most people do not realize, the rebels, the communist rebels, how close they came to Manila and how close they came to large urban centers and slowly gained control. That's why it was necessary to, in my father's view at that time, declare martial law kasi may giyera na talaga (because there was really war already)," he added.
Marcos, however, claimed that this side of history was barely taught in schools because it is the winners' interpretation of them that prevails, particularly that of the "opposition".
It was the death of Senator Benigno "Ninoy" Aquino, Jr., chief opposition leader, that became a contributing factor in galvanizing opposition to the Marcos Sr. government.
"Because the victors write history, don't they? It is the victors in a conflict that will write history. The government fell, so the victors wrote this history and that's what is being taught in schools and that's what you heard and learned. Those reasons were expounded at great length during my father's time pero siyempre nag polarize na so kalaban na, naging kalaban na. So yung kalaban, silang sumusulat ngayon ng history. Ayan ang nangyayari kaya ganyan ang natutunan ng tao (but of course it's polarized, so it became an opposition. The opposition writes history. That's what happened, that's what the people learned)," he said.
'Just opinions'
Marcos disagreed with critics who described his father as "dictator" after he declared martial law on Sept. 21, 1972, citing how his father would always have consultations with several private and civil society groups.
"How many times have I been here in this room when he was in consultation with different groups. Ang diktador hindi nagkokonsulta. Ang diktador sinasabi nalang niya 'Eto yung gagawin niyo sa ayaw o sa gusto ninyo (A dictator would not hold consultations. A dictator would say, 'This is what you should do whether you like it or not.) How many times have I watched caucuses here, have I watched meetings in this hall that in different industries talagang kinakausap niya (he would really discuss with)," he said,
Marcos said being called a dictator's son never really hurt him because these were just "opinions".
"It would hurt me if they were right. But they're wrong," he said.
He acknowledged human rights abuses under his father's regime but noted that these abuses happen "like in any war."
"We recognize naman the problems that happened, the abuses that occurred like in any war. All of these things are some things that are already part of history," he said.
He denied being involved in any effort to distort and falsify history to suit his family's interests.
Marcos said he is open to "changing" textbooks about martial law, but "only if they're wrong."
"Let's talk about facts, not political opinion. What are the things that actually did happen that we can show, we can prove. Tignan ninyo (You see), we have video, we have photographs, we have records, these actually happened as opposed to 'Alam mo balita namin ganito yung nangyari, narinig namin may intel kami.' Naging chismis basically na hindi naman mapatunayan ('You know, it's what we heard that happened, we heard from intel.' They became rumors that can't be proven)," he said.
"Lahat ng aming sinasabi kaya namin patunayan. Paano nagiging (We can prove everything that we are saying. How can it be) revision of history and how do you distort history? You distort history siguro, sasabihin mo these are the actual facts pero ang interpretation, yung spin (Perhaps you can distort history by saying these are actual facts but are actually an interpretation or spin)," he added.
Renaming NAIA
Meanwhile, Marcos said he had "no strong feelings" about calls to rename the Ninoy Aquino International Airport (NAIA) to back Manila International Airport.
"I haven't actually thought about it. Well, we are known around the world as Manila International Airport…I have no strong feelings about it. If people want to rename the airport and we get public support for it, then yes go ahead. If not, then no. It's really not [a priority]," he said.
Estate tax
Marcos also encouraged the investigation of his family's billions of pesos worth of unpaid estate tax, saying they are prepared to answer questions.
"We are actually encouraging that this finally be resolved because…I don't want to make a legal opinion for which I am not qualified…but we were never allowed to argue because when this case came out, we were all in the United States," he said.
"Now we are all here, open the case and let us argue," he added.
In 1997, the Philippine Supreme Court found that the Marcos estate was liable for a total of PHP23 billion estate tax for failing to file estate tax returns and payments since the older Marcos' death in 1989. (PNA)