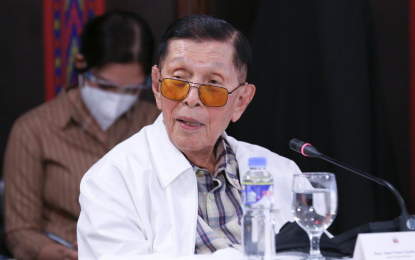 MANILA – President Ferdinand "Bongbong" Marcos Jr. believes that his chief legal counsel, Juan Ponce Enrile, would not withdraw support from him the way he did with his father, former President Ferdinand E. Marcos Sr., in 1986.
In an interview with TV host-actress Toni Gonzaga aired on ALLTV Channel, Marcos recounted past conversations he has had with Enrile, whom he calls "Tito Johnny", and how they have reconciled.
Enrile, most known for being martial law administrator, helped oust the older Marcos in 1986.
"I don't see any reason for him to betray me. The times are just too different for us to be able to say that you know babalik siya sa ganoon (that he would return to what he was before). And also you see, time of life na rin niya eh (it's the time of his life now)," Marcos said.
Marcos said he has previously asked Enrile about his relationship with his father and concluded that the latter's past actions arose from his desire to "defend the country."
"It didn't seem to be an attack really on my father because also I was privy to their conversations noong nandoon siya Crame na -- ako ang may hawak ng telepono nung dad ko eh, so naririnig ko lahat ng usapan nila (when he was in Crame -- I was holding my dad's phone so I heard their conversations)," he said.
"So hindi ganoon talaga na, 'Hindi kayo -- kayo pababagsakin namin kayo.' Hindi ganoon eh. Hindi ganoon. Hindi ganoon ang pagkatrato niya (So it's not like he was thinking "We're going to overthrow you.' It's not like that). I think he felt that he was really defending the country in some way," he added.
He described Enrile as "one of the three best lawyers" that he knows in the country, citing his brilliance as the main reason for appointing him as his chief legal counsel.
"Kasi siya ang pinakamagaling," he said. "As a legal adviser, he certainly fits the bill. He certainly fills the bill. So that's not a problem. Ang dami nang nangyari since '86 (A lot has happened since '86)."
Marcos named Enrile as his chief legal counsel in June.
Sara as DepEd chief
While Marcos' admiration for Enrile's brilliance led him to pick him as his chief legal counsel, he said it was Vice President Sara Duterte's "forthrightness" that convinced him to appoint her as Education secretary.
"The word that I keep using when I talk about VP Inday is 'forthright'. Basta kung anong sabihin niya, gagawin niya (Whatever she says, she does)," he said.
"She's also quite forceful. And the Department of Education is not an easy job to put together, especially since we decided that she -- that the face-to-face will go on in the next -- in this upcoming, in this semester," he added.
Despite her assertive trait, Marcos said Sara was the perfect person for the job because of her "patient" nature as a mother, not just to her three kids, but to the nation.
"Let's just say, she's just doing this for her children. That's good enough because she wants the best for her children and she wants the best for all children. And she's always had that advocacy anyway," he added.
Marcos appointed Duterte as Education chief in May. She was also Marcos' running mate during the May 9 elections. (PNA)