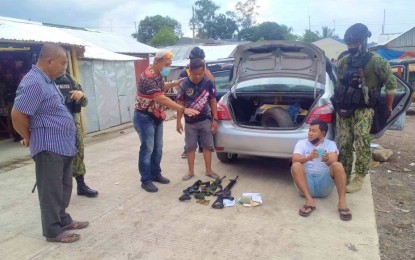 COTABATO CITY –A 40-year-old suspected gunrunner was caught in an entrapment operation in Datu Paglas, Maguindanao, police said Wednesday.
Municipal police chief, Lt. Nelson Pedrico Jr., identified the suspect as Nashrollah Kando Rajabuayan of Barangay Poblacion in the same town.

Pedrico said their undercover agent negotiated with and managed to confirm that Rajabuayan sold high-powered firearms to those looking to acquire assault rifles.
Police arrested Rajabuayan at the back section of the public market in Poblacion at 4 p.m. on Tuesday.

The suspect did not resist arrest and police seized from his possession one M16 A1 rifle, one Bushmaster rifle, a 5.56 Colt rifle, and ammunition.

Police also seized the suspect´s Toyota Vios, mobile phones, and personal belongings.
Rajabuayan faces charges for violating Republic Act 10591 or the Comprehensive Firearms and Ammunition Regulation Act. (PNA)