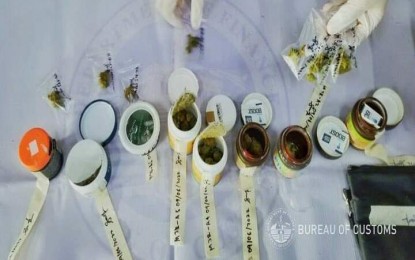 MANILA – The Bureau of Customs (BOC) – Port of Clark arrested the claimant of a parcel containing 35 grams of kush or high-grade marijuana in Malabon City on Tuesday.
In a statement Wednesday, the bureau said the suspect, who was not identified, was arrested in controlled delivery operations conducted by the members of Customs Anti-Illegal Drug Task Force (CAIDTF), Enforcement & Security Service (ESS), Customs Intelligence and Investigation Service (CIIS), X-ray Inspection Project (XIP) and the Philippine Drug Enforcement Agency (PDEA).
The contraband with an estimated street value of PHP52,500 was placed inside eight canisters that came from the US state of Pennsylvania and was declared as "goodies".
However, the package showed suspicious images during X-ray scanning while K9 sweeping procedure indicated the possible presence of narcotics.
The BOC then subjected it to a physical examination that resulted in the discovery of canisters containing dried buds and leaves.
Representative samples were taken and turned over to PDEA for chemical laboratory analysis which confirmed the presence of tetrahydrocannabinol/marijuana.
District Collector Alexandra Lumontad issued a warrant of seizure and detention for violation of Sections 118 (g), 119 (d), and 1113 par. f, I & l (3 & 4) of Republic Act (RA) 10863 or the Customs Modernization and Tariff Act and in relation to Section 4 of RA 9165 (Comprehensive Dangerous Drugs Act of 2002).
On the other hand, the Port of Clark reported that it has seized PHP114 million worth of illegal drugs since January this year. (PNA)