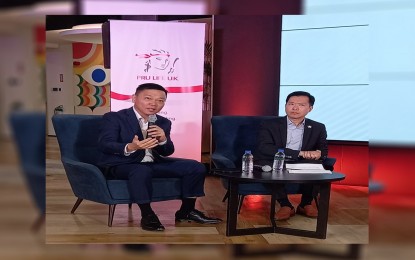 MANILA – An official of London-based Prudential Plc is optimistic that the rising interest rate will not have any immediate hit on the pricing of their insurance products as authorities are now addressing the issue.
In a briefing on Wednesday, Prudential chief health officer Andrew Wong said jumps in inflation rate, which is the main reason for increasing interest rates around the globe, is not severe in Asia and Africa as it is in Europe and the United States.
"So certainly, we hope this is going to be like a temporary issue," he said, adding "whatever comes up will come down again."
Wong said central banks are helping address the elevated rate of price increases by also hiking their key policy rates.
"The impact of inflation should be a temporary phenomenon," he said.
Wong said this is the reason why firms, such as insurance companies, need to introduce products with higher guarantee of returns, pointing out that people's awareness to have insurance protection increased during the pandemic.
"Because of the environment, because of the increasing interest rate, most of the companies, including ourselves, are in a better position to come up with some sort of higher guarantee return to products as a result," he said.
Wong said they have proposed with the regulators about the provision of some sort of reward system for their policyholders who have not made any claims or those with minimal claims to date.
He said the regulators are receptive to the suggestion.
"This is what we call the claim-based pricing… It's basically a reward to the policyholders if they stay healthy or if they have a lot of other prevention steps so that they take the conscious decision not to incur claims," he added.
During the same briefing, Pru Life UK president and chief executive officer (CEO) Eng Teng Wong said these affordable products are targeted to encourage more people to have insurance coverage, thus are aimed to also help increase financial inclusion in the country.
He said these are competitive products given the benefits it will have to the policyholders.
He added these are expected to help increase insurance penetration in the country which, to date, remains low relative to the region at only around 1.7 percent of total population. (PNA)