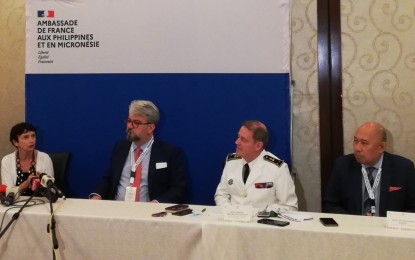 MANILA – The French government is open to continue talks with the Philippines when it is ready to discuss its submarine acquisition program, French Ambassador Michèle Boccoz said Wednesday.
Although no contractor had been named yet, the Philippine Navy last year said a submarine deal would have been finalized sometime in 2021 or the first semester of 2022 if not for the coronavirus pandemic.
Boccoz confirmed that France was among the countries that submitted a proposal and discussions had been "ongoing" with the Philippines.
"France is obviously committed to working more closely with the Philippines and have a more strategic relationship with the Philippines so we are ready should the Philippines make a decision. We are ready to work on that perspective with them," she said during the Stratbase-organized Revolutionizing the Philippines Defense Posture with France in the Indo-Pacific symposium in Mandaluyong City.
"We think it's really important to be ready. We can provide this collaboration in this very important domain. Our stance is also protecting sovereignty, to defend sovereignty and sovereign rights, which are very important," she added.
READ: PH would have inked submarine deal sans pandemic
French defense company Naval Group in India and Asia-Pacific Vice President Nicolas de la Villemarque pitched the firm's Scorpene diesel-electric submarines as "sea-proven" in different regional navies, including Chile, Malaysia, India, and Brazil.
"We are different, first, because we have state-of-the-art submarine which is sea-proven in many regional navies. Second, we as a team, France -- our Navy, our government, our Ministry of Defense, our Ministry of Foreign Affairs -- have sea-proven capability to be able to create from scratch a submarine fleet," he said in the same presser.
"[T]he focus is not just the acquisition of the platform, it would be around the three pillars-- the platform, the training and the maintenance, and creating a squadron in the Philippines. This is what makes us different from our competitors," he added.
The Philippines has expressed interest to include submarines in its naval inventory to allow the Armed Forces of the Philippines to achieve a credible defense posture.
Earlier, the Philippine Navy said South Korea, India, and Turkey were also interested in bidding on its submarine acquisition program. (PNA)