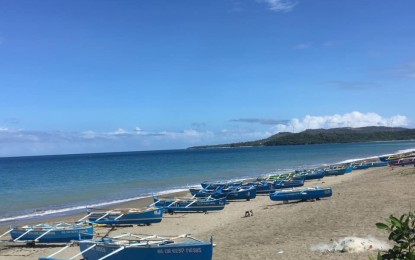 LAOAG CITY – Coastal residents in Burgos, Ilocos Norte have been warned against debris from a Chinese rocket that was launched on Sept. 13 from the Wenchang Space Launch Center on Hainan Island.
Marc Talampas, Philippine Space Agency's (PhilSA) Space Technology Missions & Systems Bureau director, said in a press briefing that as of Wednesday afternoon, there is still no report from the Philippine Coast Guard regarding the sightings of the debris.
"In the past, fishers found the debris after a day or several days since a rocket launch," Talampas said. "Every time (a rocket is launched) from the Wenchang Space Launch Center, it is expected that debris would fall on Philippine coastal waters.
China's Long March 7A (CZ-7A) rocket was launched on Tuesday at around 9:19 p.m. (PST) Tuesday.
According to the PhilSA, two drop zones within the Philippine territory have been identified based on the Notice to Airmen (NOTAM). Drop Zone 1 is approximately 71 kilometers from Burgos, Ilocos Norte, while Drop Zone 2 is approximately 52 kilometers away from Santa Ana, Cagayan.
The Civil Aviation Authority of the Philippines said it has issued NOTAM for the aerospace flight activity effective 8 p.m. of Sept. 13 until midnight of Sept. 18, advising the closure of several area navigation routes in preparation for possible debris drops from the rocket launch.
Burgos Mayor Crescente Garcia said in an interview Wednesday that upon learning of the advisory, he immediately informed coastal villagers in Burgos town not to venture out to sea while authorities are still monitoring the area.
"As soon as we learned of the possible falling of rocket debris, we have been monitoring our seawaters for floating debris, but so far there's none," said Garcia as he joined the personnel of the Philippine Coast Guard and the Philippine National Police in monitoring the Burgos shoreline on Wednesday.
Garcia said he is thankful that the sea is rough on Wednesday and the local fishermen did not insist on going.
Poblacion barangay chief Joegie Jimenez said the local police are also monitoring and observing the sea within their respective areas of jurisdiction.
An earlier public advisory from the Ilocos Norte province Facebook page was also shared in the village's social media accounts to help in the information drive.
While the Chinese rocket is unlikely to fall on land features or inhabited areas in Philippine territory, authorities said falling debris still poses a considerable threat to ships, aircraft, fishing boats, and other vessels that may pass through these drop zones.
In case suspected floating debris is sighted at sea, the PhilSA warned the public against retrieving or coming in close contact with these materials.
"We encourage everyone to exercise caution when passing through the drop zones in Burgos, Ilocos Norte, especially ships, aircraft, fishing boats, and other vessels because rocket debris from the Chinese launch could fall into these areas," it said in a public advisory.
PhilSA researcher Paul Leonard Hilario said finding out the location of the debris is important for scientists so they could know the accuracy of the estimated drop zones.
"If they accidentally touched it, they should immediately wash their hands," Hilario said. (with reports from Ma. Cristina Arayata/PNA)