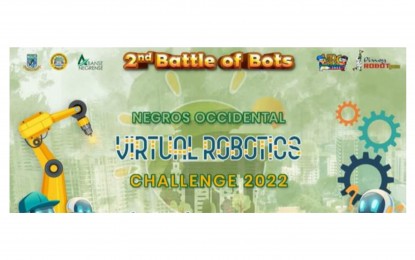 BACOLOD CITY – Robotics is gaining ground in various elementary and high schools in Negros Occidental through the Negrense Robotics and Intelligence Machines Program of the Negros Occidental Language and Information Technology Center (NOLITC).
In the just concluded 2nd Battle of Bots: Negros Occidental Virtual Robotics Competition, some 37 students participated in both the line tracing and sumobot categories, from only 34 participants during the first edition last year.
The field of robotics, which involves the design, construction, and operation of robots, aims to create intelligent machines that can assist humans in various ways.
"Robotics is gradually gaining ground in the province with the increase in the participation of the schools," Ma. Cristina Orbecido, vocational school administrator of NOLITC, told the Philippine News Agency (PNA) on Wednesday.
The competitors were among the 69 students from 13 schools who completed the online robotics and intelligent machines training under the NOLITC.
"Next year, we will bring the robotics competition to every district to maximize the involvement of the schools and also to hone more robotics enthusiasts," Orbecido said.
Themed "Greener Digital Cities", the competition held on Sept. 5 to 9 was conducted by the NOLITC in partnership with Pinoy Robot Games to guide young minds to use their abilities in solving practical problems through robotics.
Sophie Kryshel Florido of Ramon Torres National High School in Bago City was the champion in both the secondary line tracing and sumobot categories.
In the elementary category, Mar-Aian Matthew Peroti of the University of Negros Occidental-Recoletos Integrated School in this city and Kaizene Saskiah Batomalaque of the School of the Future San Carlos City ruled the line tracing and sumobot competitions, respectively.
Champions in the line tracing and sumobot competitions will represent Negros Occidental in the National Robotics Competition on Sept. 30.
Through the NOLITC, Negros Occidental hosts the first robotics training center in Western Visayas, and is the first local government in the country to support a learning center for robotics. (PNA)