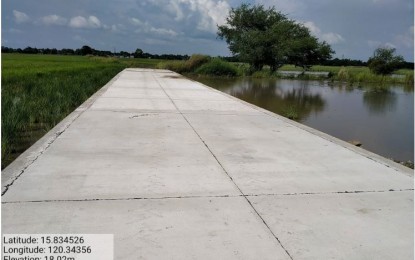 URBIZTONDO, Pangasinan – The Department of Public Works and Highways (DPWH) has built a new road in Barangay Dalanguiring in this town to increase accessibility for residents and contribute to the development of the community.
In a statement issued on Wednesday, DPWH Ilocos regional information officer Esperanza Tinaza said residents may now easily travel to Urbiztondo's town proper to access basic social services.
"Travel time has been reduced from 15 minutes to eight minutes due to the construction of a new road," she said.
Tinaza said better road conditions are now provided to students, which is essential, especially with the reopening of schools for limited face-to-face classes.
She said since farming is the primary source of income for the residents, farmers are currently benefiting from safer and more efficient deliveries of farm products.
The concrete road was started on March 24 and was completed on July 20 this year.
It measures 313 linear meters in length and five meters in width with a project cost of PHP1.9 million allotted under the General Appropriations Act of 2021. (PNA)