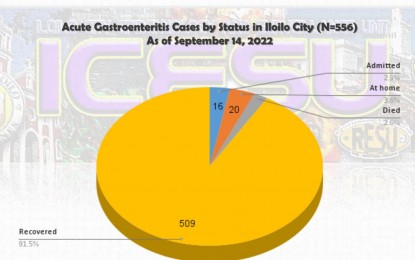 ILOILO CITY – Health authorities on Thursday said the number of acute gastroenteritis (AGE) patients here is on the decline but asked the public to remain cautious as full access to safe potable water and sanitary toilets is yet to be achieved.
Dr. Marigold Calsas, medical coordinator of the Iloilo City Epidemiology and Surveillance Office, in a virtual press briefing, said there are only 36 active cases left while 509 have already recovered.
"Our cases peaked last Aug. 31 and from that point our cases are already decreasing with 35 cases per day. For the last seven days we record an average of 15 cases (a) day," she added.
Calsas said seven cases were recorded on Sept. 14 bringing the total cumulative cases to 556 with one death or a total of 11 fatalities since the first death was reported on Aug. 22.
City Health Office (CHO) acting head, Dr. Annabelle Tang, said that there is no assurance if the downtrend cases in Iloilo City would be sustained although they were eyeing to lower the cases by end of the month.
Tang said that they have yet to achieve the permanent solutions, which are access to safe water and sanitary toilet facilities.
"Those are the key factors that brought about the AGE cases. Meanwhile, we have short time remedies, which are the establishment of public faucet while the city has a plan to come up with a communal toilet in barangays without sanitary toilets," she said.
Meanwhile, Iloilo provincial health officer Dr. Maria Socorro Quiñon said the province has recorded 44 cases of the disease although only 18 remain active as of Sept. 14.
Quiñon added that three of the acute gastroenteritis cases are confirmed cholera based on the record of the Provincial Epidemiology and Surveillance Unit.
The Sangguniang Panlalawigan of Iloilo during its regular session on Sept. 13 passed a resolution that calls for the mandatory testing of all water refilling stations in the province and to ensure having the necessary permits to operate.
The same resolution urged the public to either boil water before drinking or source these from licensed water refilling stations.
Also, it called for the committee on health and sanitation to investigate whether or not the Water Code of the Philippines is being implemented in the province. (PNA)