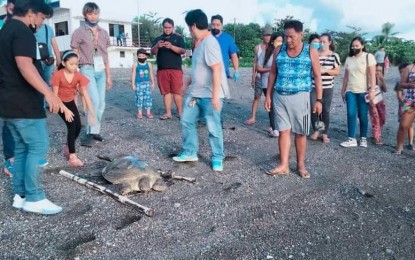 SAN JOSE DE BUENAVISTA, Antique – A weak green sea turtle that was recently rescued in Antique is back in the custody of the Pawikan Center here a day after it was released to the sea.
"The green sea turtle was first rescued here in San Jose de Buenavista on September 2 and was released back to the sea 10 days after," San Jose de Buenavista Municipal Environment and Natural Resources officer Madelyn Pagunsan said in an interview Thursday.
It stayed at the Pawikan Center for 10 days because it was weak and had no appetite when fed with squid before it was released back to the sea on September 12.
At first, the locals in San Jose de Buenavista tried to return it to the sea, but the turtle kept going back to the shoreline possibly to seek help as it could have ingested bits of plastic.
"We observed though that on its feces, there were tiny pieces of plastic sack that it could have ingested in the sea or somewhere else," Pagunsan said.
With the assistance of the Antique Provincial Veterinary, the rescued turtle was injected with multivitamins and nursed until it got stronger before its release.
However, on September 13, just a day after its release, the turtle was seen along the coastal area of the municipality of Belison, about 15.8 km. away from San Jose de Buenavista.
It was rescued anew and was recognized through a tag that was placed by the center for easy identification.
In a separate interview, City Environment and Natural Resources forester Kenny Marie Gicaraya said the turtle was subjected to an X-ray before its turnover to the center.
"In the X-ray result, the lungs of the turtle were also clear," she said.
Gicaraya added that momentarily the turtle, which is 28 inches in length, would stay at the center while they wait for instruction from the central office of the Department of Environment and Natural Resources (DENR) on what to do with the animal.
The Pawikan Center in San Jose de Buenavista is the only referral center in the province for sea turtles.
It was established through the funding provided by the DENR but is managed by San Jose de Buenavista's local government unit. (PNA)