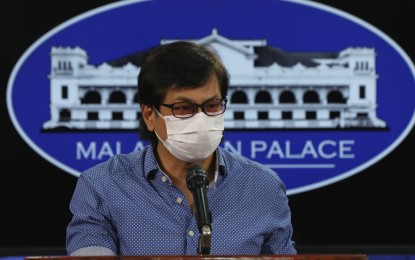 MANILA – Around 1,477 of the total of 1,715 local government units (LGUs) in the country have operational peace and order councils (POCs), Department of the Interior and Local Government (DILG) Secretary Benhur Abalos Jr. said on Thursday.
In a statement, Abalos said ensuring that POCs across the country are efficiently operating and functioning will help pursue the Marcos administration's vision of curbing criminality and sustaining peaceful, orderly and safe communities.
He added that this figure translates to 88.24 percent of all LGUs having functional provincial, city and municipal POCs for 2021, which are doing their share in carrying out peace and order initiatives at the local level.
"Peace and order remain to be a critical contributors to a progressive economy. We recognize the efforts of these 1,477 LGUs to continuously deliver good performance in promoting programs and policies aimed at intensifying peace and order in their respective jurisdictions and protecting citizens from the bad elements of our society," he said.
Abalos said the positive results of the POC performance audit clearly prove LGUs' adherence to peace and order-related laws and policies such as Section 16 of Republic Act (RA) No. 7160 or the Local Government Code and Section 3 of Executive Order (EO) 773, series of 2019 titled 'Further Reorganizing the Peace and Order Council'.
Among regional POCs that gained functional status for 2021 are Ilocos Region, Cagayan Valley, Central Luzon, Calabarzon, Mimaropa, Bicol, Western Visayas, Central Visayas, Zamboanga Peninsula, Northern Mindanao, Davao Region, Soccsksargen, Caraga, National Capital Region, Cordillera and the Bangsamoro Autonomous Region in Muslim Mindanao (BARMM).
"POCs have played an integral role in the government's campaign to go grassroots in fighting criminality, illegal drugs, insurgency and violent extremism. It becomes an instrument for stronger collaboration between the administration and the LGUs in carrying out projects related to peace and order," Abalos said.
Under DILG Memorandum Circular No. 2019–143, POCs in the regional, provincial, city, and municipal levels are also mandated to ensure the effective and efficient programs, projects, and activities aimed to curb anti-criminality, anti-insurgency, and anti-illegal drugs to ensure peace and order, and public safety.
The POC performance audit seeks to evaluate the functionality of Regional, Provincial, City and Municipal POCs, acknowledge the innovations done by the POCs and their secretariats, enhance POC strategies and interventions and build an avenue to showcase the best practices of the POCs.
For the recent audit, Abalos said the LGUs were evaluated based on their compliance with the prescribed membership composition in EO 773, the number of meetings conducted; the three-year term-based plan and budget allocation; submitted accomplishment reports through the Peace and Order and Public Safety Plan Policy Compliance Monitoring System; initiated innovative programs on peace and order and public safety; and, higher POCs' general supervision of the lower POCs.
He said a local POC must earn an overall percentage score of not less than 65 percent to pass the audit and must not get a score lower than 50 percent in any of the six pillars -- Organization, Meetings, Policies, Policies, Plan and Budget, Reports, Innovations and General Supervision, to be eligible for awards such as the Seal of Good and Local Governance.
LGUs integrating modern strategies will also receive additional points.
"The assessment is done every year to strengthen POCs in localities and determine new possible mechanisms that may enrich peace and order and public safety," Abalos added. (PNA)