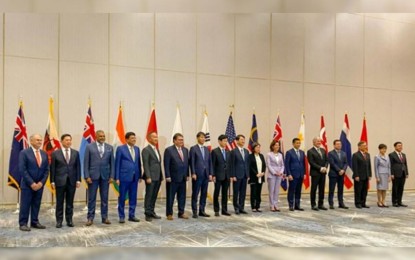 MANILA – The Department of Trade and Industry (DTI) on Thursday highlighted the benefits for the Philippines from joining the United States-led Indo-Pacific Economic Framework (IPEF), such as cooperation with the US in renewable energy and green metals.
In a statement, the DTI said a US firm that owns a patent in battery manufacturing will be funding a feasibility study for the country to develop nickel ore processing.
"The US firm supplies US military and critical industries, including hyperscaler data centers, renewable energy projects, and long-haul trucking companies," the agency said.
During the visit here of US Secretary of State Antony Blinken last month, he announced the commitment of the US for a feasibility study grant on the Philippines' first off-shore wind farm.
Blinken then said this partnership is in line with IPEF's vision of green energy transition.
Attracting investments in green metals such as nickel, cobalt, and copper is one of the five key priorities of DTI's investment promotion brand "Make It Happen in the Philippines".
DTI Secretary Alfredo Pascual also pitched to US Commerce Secretary Gina Raimondo the investment opportunities in green metals and clean energy sectors in the Philippines ahead of the IPEF Ministerial Meeting in Los Angeles last Sept. 2.
Pascual has also welcomed the announcement of Raimondo that the US is launching the IPEF Upskilling Initiative, a digital skills training to 7 million women in less developed IPEF parties, including the Philippines that will be facilitated by 14 of the largest digital firms in the US such as Apple, American Towers, and Amazon, among others.
"I laud Secretary Raimondo and (US Trade Representative) Ambassador Katherine Tai's effective and innovative design of the Los Angeles IPEF Ministerial Meeting. The program allowed parties to have a meaningful exchange of ideas toward delivering an IPEF that will not only be a framework for defining regional trade and investment relations, but equally important, will be an effective platform for undertaking innovative modes of regional industrial collaboration," the DTI chief said. (PNA)