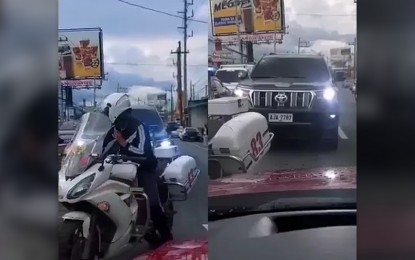 MANILA – The Land Transportation Office (LTO) has fined and revoked the licenses of two drivers involved in a viral video of an SUV being escorted by a motorcycle to drive counterflow in Cavite City in July.
In a Facebook post on Thursday, LTO chief, Assistant Secretary Teofilo Guadiz III, and LTO National Capital Region and Law Enforcement Service chief, Clarence Guinto, signed a resolution to hold both Michael Inocentes and Roi Vincent Toledo accountable for the incident.
Both were found to be "improper person(s) to operate a motor vehicle" and were asked to surrender their licenses at the Intelligence and Investigation Division (IID) of the LTO.
Inocentes, the driver of the motorcycle bearing blinkers and sirens, was charged with administrative cases, among them reckless driving, "failure to attach authorized motor vehicle license plate," and "failure to carry OR/CR."
Aside from having his license taken, he was fined PHP8,000 for his violations.
On the other hand, Toledo, the driver of the black Toyota Prado, was charged with obstruction of traffic and reckless driving, resulting in his license being taken and a PHP3,000 fine.
In addition, the owner of the SUV, Erwin Pijana, was ordered to change the ownership of the vehicle to his name within 20 days upon his receipt of the resolution.
Pijana was warned that the vehicle would be placed on alarm if he failed to comply.
Guadiz called on the driving public to respect the country's laws and road regulations to protect themselves and the safety of the public.
"Buong puwersa ding ipapatupad ng LTO ang batas laban sa mga lumabag, anuman ang antas o posisyon sa lipunan, partikular ang mga nagpapanggap na person of authority (The LTO will enforce the law against violators, whoever they may be, particularly those who pose as persons of authority)," he said.
On July 28, the LTO issued show cause orders to the owner and drivers of the two vehicles to appear at the LTO office to respond to complaints before its IID.
The viral video, uploaded on July 22, showed an SUV on illegal counterflow while being escorted by a motorcycle using blinkers and sirens. (PNA)