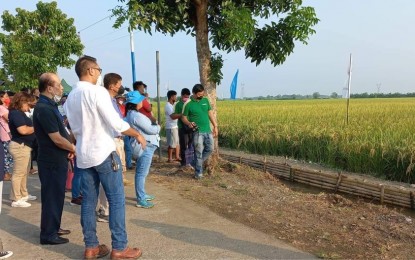 LAOAG CITY – Farmers who participated in a 160-hectare hybrid rice cluster technology demonstration project in Ilocos Norte are set to harvest their crops next week.
Showcasing the various production technologies in rice using 28 hybrid rice varieties and two inbred varieties, the techno demo project is expected to meet its target yield of 8 to 10 metric tons of rice per hectare.
Participated by a total of 11 private seed companies, together with Philippine-Sino Center for Agricultural Technology and Philippine Rice Research Institute and six nutrient companies, the techno demo involved 230 farmer cooperators of the Zanjera de Sales Irrigators Association.
"It is a good project considering it's for the second crop. The hybrid rice program will surely increase the production of our farmers and it can be adopted as a national project," said Undersecretary Domingo Panganiban in an interview Thursday following his visit to the demo farm in Barangay Cabaruan, Bacarra town.
Edwin Cariño, technical consultant in agriculture of Ilocos Norte First District Representative Ferdinand Alexander Marcos, said he is hopeful that the rice-sufficient province of Ilocos Norte will be able to export rice soon by adopting new technologies under the government's hybrid rice program.
"We don't have to worry about the technical aspect because our farmers are already technically capable as shown by the standing crops in the techno-demo," said Cariño as he underscored the need for greater collaboration between local government units, organized farmers groups and associations, and private seed companies.
Cariño said the collaboration is needed to develop the needed technical skills of the local agriculture extension workers to further assist farmers in achieving greater productivity and income.
Farmer like Jun Viernes said he was thankful for participating in the project and learning new ways to reduce production costs through the proper timing and right application of fertilizer.
"Dati-rati, sa paglalagay ng abono ay minsanan lang at tinotodo na namin hanggang sa anihin ang aming palay. Buti na lang at nakasama kami sa hybrid rice cluster techno demo at natutunan namin ang tamang klase, tamang dami at tamang panahon ng paglalagay ng abono (We used to apply fertilizer one time, big time until they are ready to harvest. It's good we were included in the hybrid rice cluster techno-demo and we learned the right kind, right amount, and right time to apply fertilizer), he said.
"We are inspired to see our farmers working together to show that we are one in achieving the Masagana 200 goal. We certainly can go farther if we work together," said provincial board member Jonathan Torallba, chairperson of the committee on agriculture of the Sangguniang Panlalawigan.
Meanwhile, Recher Ondap, National Rice Board president, said the project provided an avenue for more farmers to plant hybrid rice.
"We need to continuously do this kind of activity all over the regions if we want to truly help our country do away with rice importation", he said.
He stressed the need to increase the country's rice production to ensure a sufficient supply of rice for Filipinos, especially since major rice exporting countries like India, China, Vietnam and Thailand are now keen on reducing the volume of their rice export.
Frisco Malabanan, DA consultant of the National Rice Program, reiterated the adoption of a complete value chain approach in rice production through clustering where interventions are farmer-centered.
Malabanan expressed hope that farmers will also benefit from the agribusiness side where cooperatives will be empowered to buy the farmer-members' produce either as rice or palay and engage in value-adding activities for a better income.
Some provinces' hybrid rice utilization rates are still below 40 percent and only Ilocos Norte has attained a high of 72 percent.
Dawayan said the hybrid rice utilization in the region can still be increased through activities like the hybrid rice cluster techno forum.
He said the promotion of hybrid rice production through the techno demo is a key strategy in achieving a yield of 200 cavans per hectare, the main goal of the Masagana 200 program of the current DA administration. (PNA)