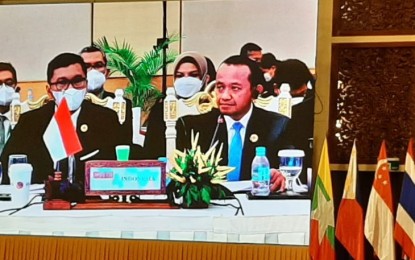 JAKARTA – Investment Minister and Investment Coordinating Board (BKPM) Head Bahlil Lahadalia spotlighted the significance of solid cooperation among Association of Southeast Asian Nations (Asean) member states to create a strong bargaining position at the global level.
Lahadalia made the remarks while attending the 25th meeting of the Asean Investment Agreement Council (AIA Council) in Cambodia on Wednesday.
Not all countries support the development of Asean countries, he said while referring to development of the downstream industry in Indonesia.
"Indonesia is facing the situation today. While we are focusing on developing the downstream nickel industry to produce car batteries, some countries lodged a protest against us at the WTO (World Trade Organization). This is a small example, but we do not rule out the possibility of other countries also facing a similar situation," the minister noted in a written statement released in Jakarta on Thursday.
In response to the Asean Investment Report 2022 by the United Nations Conference on Trade and Development, Lahadalia called on Asean countries to formulate joint priorities and mutually strengthen by relying on each other's comparative advantage.
"I believe that we are strong, but we have not focused on each other in giving strength to fellow Asean members. I also laud what the UNCTAD has conveyed that reform of various regulations and services is a fundamental thing," he said.
In November 2019, the European Union (EU) filed a lawsuit with WTO against Indonesia's restrictions on the export of nickel, iron ore, and chromium used as raw material for the production of stainless steel in Europe.
In the lawsuit, EU accused Indonesia of violating WTO members' commitment to give as wide access as possible to international trade, including for raw nickel.
Lahadalia said the development of the natural resource-based downstream industry in Indonesia has enabled the country to improve its trade balance. In 2017, Indonesia suffered a deficit of USD18 billion in its trade with China, and the figure fell to USD2.5 billion in 2021.
However, Indonesia recorded a surplus of USD1 billion in its trade with China in the first semester of 2022. Overall, Indonesia's trade surplus reached USD15.55 billion over the course of time.
"This is the concrete impact of the natural resources-based downstream industry that the government continues to encourage at this moment. We must remain on the tack as far as we can," Lahadalia said.
Indonesia awaits a WTO decision on the settlement of its trade dispute with EU.
The government ban on nickel ore export came into effect since January 1, 2020, based on Energy and Mineral Resources Minister's Regulation No. 11 of 2019.
Aside from Indonesia, other Asean members include Brunei, Cambodia, Laos, Malaysia, Myanmar, the Philippines, Singapore, Thailand, and Vietnam. (Antara)