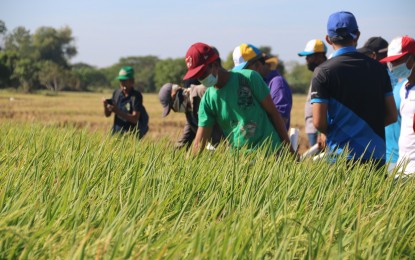 MANILA – Budget Secretary Amenah Pangandaman believes that the Department of Agriculture (DA) will properly utilize its proposed budget of PHP184.1 billion to achieve food security goals under the leadership of President Ferdinand "Bongbong" Marcos Jr.
Marcos announced in June that he will also be assuming the post of agriculture secretary to show Filipinos that agriculture is placed at a "high priority."
"With the new leadership of the Department of Agriculture, we believe they'd be able to disburse and absorb the levels that we have provided," Pangandaman said during Day 2 of the Development Budget Coordination Committee (DBCC) Senate briefing.
As part of efforts to boost agriculture output in the country, she said the DBM has allocated PHP10 billion for the Rice Competitiveness Enhancement Fund (RCEF).
The RCEF is used exclusively to finance programs that will sharpen the competitiveness of palay growers by way of providing them with easy access to fertilizer, farm machinery and equipment, high-yield seeds, and cheap credit; and by offering them skills training programs on farm mechanization and modern farming techniques.
Under the RCEF, half of the budget will be dedicated to farm mechanization while the remaining fund is intended for rice seed development, propagation, and promotion (30 percent); expanded credit assistance (10 percent); and rice extension services (10 percent).
Marcos earlier expressed hope that the government would "further boost the competitiveness and income of our local rice producers" with the RCEF.
Meanwhile, the DBM also allocated PHP1 billion for fuel assistance to farmers and fisherfolk next year.
Of the PHP1 billion assistance to farmers and fisherfolk, a total of PHP510.45 million is lodged under the budget of the DA for corn farmers, while PHP489.6 million will be for fisherfolk.
"The [fiscal year] 2023 budget for assistance in the agriculture sector is doubled from PHP500 million this year. Of course, providing better support to our producers is vital in achieving food security which is one of the near-term goals of the administration," Pangandaman said.
The DA's proposed budget of PHP184.1 billion is 39.2 percent higher compared to the 2022 allocation.
Pangandaman earlier said this increase is in line with the President's "directive to prioritize the agriculture sector to invigorate and transform it from being an economic laggard into one of the main drivers of growth and employment." (PNA)